This is an archived article and the information in the article may be outdated. Please look at the time stamp on the story to see when it was last updated.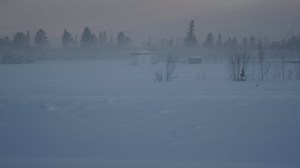 Ice fog was hanging over International Falls, Minnesota this morning. That stuff kicks in when the air temperature falls below -22 degrees
Fahrenheit
. This morning it was -46 in International falls and Babbitt, MN.
How about temperatures so cold that engine oil freezes? We think it's tough when our extreme cold makes car batteries grumpy.
We did see lows of -22 in the Mason City area this morning.
Here are more fun facts about the freaky cold in Minnesota….
•The lowest temperatures recorded in the NWS Duluth county warning area were -46 degrees at both International Falls, MN (ASOS) and Babbitt, MN (CO-OP).
•The -46 degree low was tied for the 5th lowest on record at International Falls. Temperature records date back to 1897. The record is -55 degrees which was recorded on January 6, 1909.
•The -46 degree low was tied for the lowest on record at the International Falls Airport. The official observing station was moved to the airport in 1939. This is tied with the -46 degree reading from January 6, 1968.
•The -25 degree low at Duluth is tied for the 5th lowest minimum temperature in the last decade (since 2000). The lowest minimum temperature of the 2000s thus far has been -30 on January 29, 2004.
•The state record low temperature in Minnesota was recorded at Tower, Minnesota on February 2, 1996. The low was -60 degrees. That was also the coldest temperature ever recorded east of the Mississippi River.
•The state record low temperature in Wisconsin was recorded at Couderay on February 2nd and February 4th of 1996. The temperatures dipped down to -55 degrees both nights.