This is an archived article and the information in the article may be outdated. Please look at the time stamp on the story to see when it was last updated.
A winter storm is forming tonight over the Rockies and will move through Oklahoma, Kansas and Missouri tomorrow. It will mean flurries tomorrow morning, then freezing rain by the afternoon and finally snow by tomorrow night.
Travel will be slick by the afternoon and evening. The evening commute will be more difficult. 1″ to 2″ of snow can be expected by Saturday morning.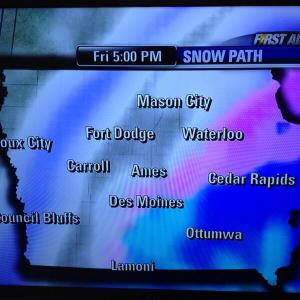 Today during our 5PM news…we heard something very unusual. It sounded like rain was falling in the control room.
Our director told our camera person/floor director he felt a drop of water fall from the ceiling. Then another drop hit the control board. Soon…it was a monsoon in the control room.
A water line broke upstairs. In about two minutes our production crew and engineers started covering everything in plastic and were running down the halls looking for extra garbage cans, buckets and anything else that would hold water.
Much more water started to flow through the upstairs to the second and lower levels of the station.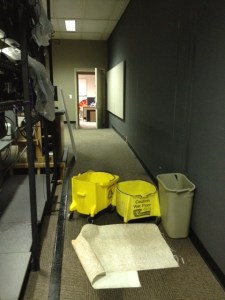 Our team was still keeping us on the air, saving equipment and calling Service Master to start the clean up.
The engineers found the shut-off valve to a outside faucet that failed and allowed the pipe to burst. First time in 30 years anything like this has happened.
Hats off to our crew. Everything made the air, we did not miss a cue and the news went on.