This is an archived article and the information in the article may be outdated. Please look at the time stamp on the story to see when it was last updated.
Here comes the high heat index temps. We are on our way to typical July temperatures and high humidity. You will have the weather you can wear by the morning.
We did have some isolated storms move through the southern counties of the state tonight. There was one small storm that tried it's best to drop some rain west and another east of the metro. If you had the rain…play the lottery. You were the big winners tonight.
This was a great picture taken by Mary Handling. She was just west of the great town of Albia. Between Mary and the sunset…a perfect picture of the storm.
The one little storm over Adel brought out a little girl and her dad…they have to do the rain dance. Let's hope it works for the rest of us.
And here is the squirrel picture of the week! This guy looks like he needs some cool air. We may all feel that way by the end of the week. We are looking at 100 to 105 degree heat index temps. Don't wear your fur coat.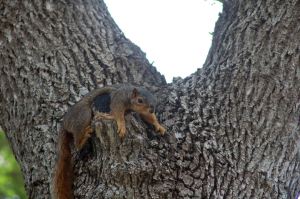 Thanks so much Christina Reflsand.
<