This is an archived article and the information in the article may be outdated. Please look at the time stamp on the story to see when it was last updated.
Sometimes it seems like there is never a dull day in the weather center. Today we expected the sunshine and just a slight chance for storms to pop up in the afternoon. Wow! Did they ever pop-up!!! Dull was falling away like the hail falling from the sky.
The first warnings hit around 2:30 PM. We had a storm that produced hail over the ground in Pella. It did not look like snow covering the ground…more like an ice machine that malfunctioned.
Dick Vander Laan showed what was left over from the storm today. This was about 1 1/2 hours after the storm moved through Pella. Looks like ice for cooler this 4th of July.
As the storm moved south…it dropped more hail over Corydon. Megan Salois and I were watching the storm start to increase in intensity and then the purple popped on the radar returns.
This storm slowed down and for about seven minutes, hailed out over Corydon. The result was a winter scene on July 2nd. The hail was just pea-sized but was sitting in 3″ deep piles.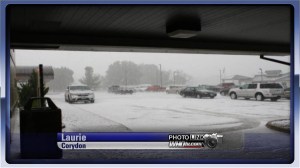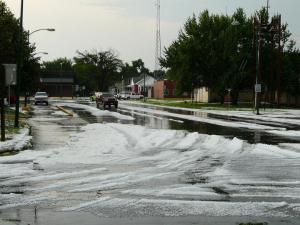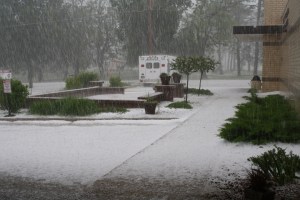 The next line of storms started to form over Wall Lake to Grimes. We had a warning for the hail in Polk County until 3PM.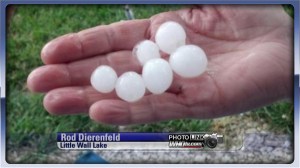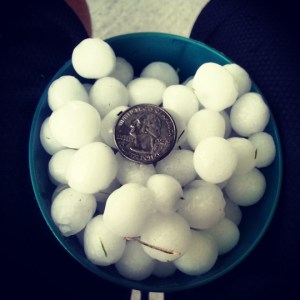 The Cup of hail and the quarter-size sample both came into the office from Nick M. and April Heit.
Next up… Warren and Clarke Counties. The hail signature started to glow just south of Inianola. The storm was setting up just east of Highway 69.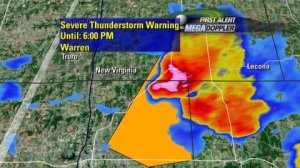 This storm was about 12 miles south of Indianola…and it was stripping the crops that were just coming up this season.
The isolated storms continued to strike in isolated areas like Osceola. The storm was giving the very familiar purples and reds. Not a lot of wind…but a huge amount of hail.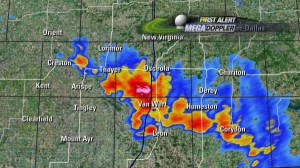 Here is a shot of the storm with the streaks of hail falling from the storm.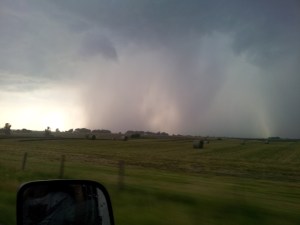 Finally the storm moved to the south and shot up a warning for Decatur County before shifting south to Missouri.
Tomorrow will be much like today…sunny start…stormy end in isolated areas.
The 4th has fewer chances for storms…and they should be finished in time for fireworks.