This is an archived article and the information in the article may be outdated. Please look at the time stamp on the story to see when it was last updated.
It has been a long night of severe weather across Iowa. The storms that have brought storm damage with 60+ MPH wind and large hail and flash flooding is moving southeast. It will still be a long early morning for law enforcement and many who are dealing with flooding and storm damage.
This picture was taken in Scranton as the nearly baseball-size hail was falling in the yards around Britt Lank's home.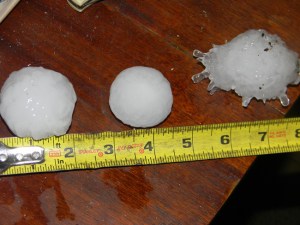 The lightning was intense. Check out the beauty of the dangerous storms are they moved across the metro. This picture is from Zachary Ide. He had the perfect timing to capture the bolts over the state capitol.
This flash of the lighting over Principal Park shows the simulcast of the lightning and the fireworks after the I-Cubs game tonight. Thanks Rene de la Rosa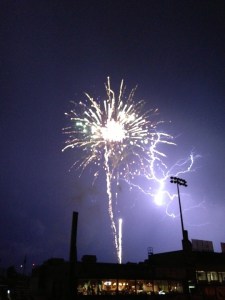 Our photojournalist Roger Reily was out taking video of some of the flooding in Bayard, IA. Their small main street was completely flooded. The county Sheriff reported one lady was stranded in her car on Highway 25. She was rescued without injury.

There is still a Flash Flood Watch in effect for the state. It includes all our viewing area.
There is also a slight risk for severe weather over Iowa through the day.