This is an archived article and the information in the article may be outdated. Please look at the time stamp on the story to see when it was last updated.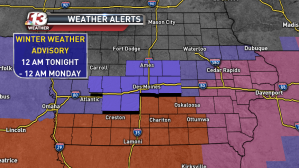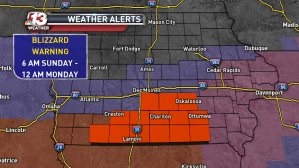 A significant snow storm has it's aim on parts of Iowa for the tail end of the long Thanksgiving holiday weekend. This will impact post-Thanksgiving travel on Sunday. Southern Iowa looks to see the highest impacts from the winter storm that will move through Sunday.  A Blizzard Warning goes into effect at 6 AM Sunday for Southern and Southeast Iowa and a Winter Weather Advisory begins at midnight for Central Iowa.
A strong area of low pressure is developing over the eastern Rockies and Plains States today. That low will move toward Iowa Saturday bringing snow across Nebraska. The low will develop across Oklahoma and Kansas and intensify. Clouds will increase ahead of the storm tonight in Iowa bringing mostly cloudy skies and a few areas of some light rain and snow after midnight.
The storm will intensify around 5 AM on Sunday. Snow will begin in the Metro around that time with the heaviest snow in Des Moines from 5 AM through 10 AM. Southern Iowa will see the longest period of snow from 3 AM in southwest Iowa and across southeast Iowa through early afternoon. The most intense snowfall will occur in southern Iowa between 7 AM and Noon and in southeastern Iowa between 9 AM and 2 PM. We could see snowfall rates of 1″ an hour Sunday morning.
In the warning area in southern and southeast Iowa, snow totals will range from 5 to 9″. In Central Iowa on the northern edge of the storm (Des Moines to Ames), totals will range from 1 to 4″. Due to the tight gradient on the northern edge of the snow fall, a slight shift in the track of the storm path could significantly change totals in some areas.
Strong winds will lead to blizzard conditions in Southern Iowa with visibility white-out at times. Winds will be from the north-northwest at 15 to 25 mph. Some gusts will reach 35 mph. This will lead to blowing snow and reduced visibility across Central and Southern Iowa, even after the falling snow has ended. We may even experience near blizzard conditions in parts of southeast Iowa. Temperatures will stay cold holding around 30 degrees most of the day.