This is an archived article and the information in the article may be outdated. Please look at the time stamp on the story to see when it was last updated.
After a nice day of drying out and enjoying quiet conditions Monday, another round of severe storms is looming for Central Iowa. There will be no weather worries Monday night through the day on Tuesday, but conditions will turn severe after 8 p.m. Tuesday. The southern part of the state is at a moderate risk of severe weather.
An area of low pressure will develop south and west of Iowa in Nebraska and Kansas with a warm front extending along the Iowa-Missouri border. This warm front will draw in warm air and high dew points, which will provide heat and moisture needed by the storms to move across the state late Tuesday night. The jet stream (upper level winds) will be strong enough to provide rotation and sustain the storms in Nebraska during the afternoon and a low level jet of warm humid air will be aimed toward Iowa late Tuesday, fueling the storms as they move across the state overnight.
The highest tornado threat will be on Tuesday afternoon in Eastern and Central Nebraska. Those storms will begin to move east toward Iowa along the warm front during the evening. They will merge to form a severe line of storms that will plow across Central Iowa.
The storm threat will begin in our western counties around 9 p.m., cross the I-35 corridor from 10 p.m. to 1 a.m., and will push through southeast Iowa after 1 a.m.. A few more storms with heavy rainfall and frequent cloud to ground lightning could redevelop around 2 to 3 a.m. behind the main line of storms.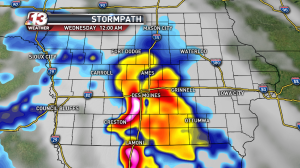 The main area for storms will be along and south of I-80 to the Missouri border. Des Moines is included. The main threats will be damaging winds and torrential rains. This looks like it could possibly bring a straight line wind event across the state. Winds of 60 to 80 mph will be possible. Flash flooding may occur as the storms move through. Rainfall amounts of 1.5" to 3" will be likely, with some locally higher totals.
Des Moines Storm Details:
Storm Timing: 10 PM Tuesday through 2 AM Wednesday
Primary Storm Threats: Damaging Winds (60 to 80 mph winds) and Flash Flooding (1 to 3" of rain)
Secondary Storm Threats: Large hail and isolated tornadoes
You can stay up to date with the latest severe storms updates by having the 13 Warn Me app loaded up on your smart phone.
–Download for Apple devices
–Download for Android devices
Stay up to date on the latest forecast on our weather page by clicking here.