This is an archived article and the information in the article may be outdated. Please look at the time stamp on the story to see when it was last updated.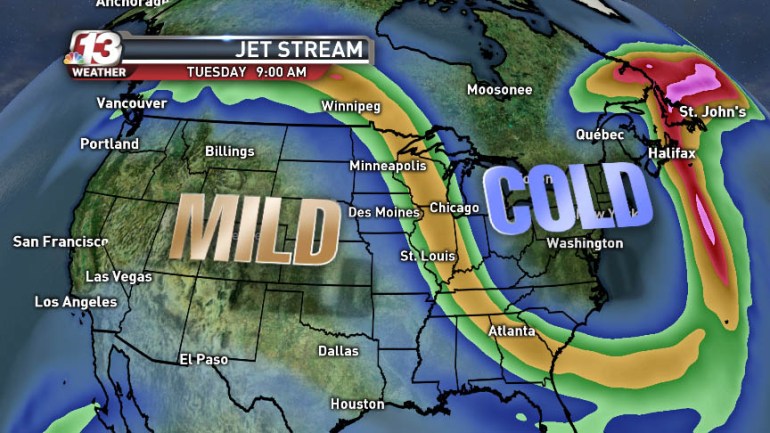 DES MOINES, Iowa — Unusually warm January air will continue to influence Central Iowa's weather the next couple of days.
While Tuesday will be a few degrees cooler, temperatures rebound back to the upper 50s on Wednesday and could tie or break the record high for January 28.
The record currently stands at 56º in 1931.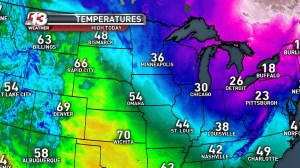 The reason for the warm stretch of weather is a very amplified jet stream. A ridge has built across the Central Plains states with warm 60s and 70s reaching as far north as South Dakota. There is also a sharp dip in the jet stream over the Eastern US dropping temperatures to the 30s as far south as Tennessee and the Carolinas. Iowa is right on the boundary of the jet stream. Our southwest and central sections will see temperatures again in the upper 40s and 50s, while there will be a sharp temperatures contrast to northeast Iowa where temperatures will stay in the 30s.
Colder air will filter into the state on Thursday with the passage of a cold front. Daytime highs will return to the 30s through the end of the week and this weekend.
The weekend also will bring us our next chance of snow. An Alberta Clipper type system will move across Iowa into a fully saturated atmosphere. At this time, the snow looks most likely to occur Saturday night through Sunday morning. Early data is showing that we could see a broad area of 3 to 4″ of snow across the state.
This is still many days out and the track and intensity of the storm is still developing, so we will continue to monitor this system to see how the snow potential adjusts.
Check the latest forecast out here.