This is an archived article and the information in the article may be outdated. Please look at the time stamp on the story to see when it was last updated.
DES MOINES, Iowa — Skies are partly sunny on this Tuesday The winds will pick up from the south, which will help warm temperatures back in the 30s. Temperatures Wednesday through Friday will be in the upper 30s.
Rain is expected to move into the state Wednesday starting after 6 p.m. in the metro. Rain will continue to fall Thursday and Friday and temperatures will near 40 degrees.
Friday night is when conditions could get messy. Rain will change into snow as temperatures drop into the upper 20s. Accumulations are expected to range from 1 to 3″ by Saturday morning.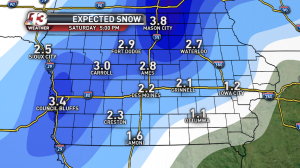 Temperatures will slowly plummet over the weekend, with highs in the single digits and teens Sunday and Monday.