This is an archived article and the information in the article may be outdated. Please look at the time stamp on the story to see when it was last updated.
Record heat is on the way. Highs on Tuesday will be in the middle 90s. We are expecting 94. That will best the old record of 93 set in 1988.
Just over the weekend we were below 40 in Des Moines. Now we are going to get past the 90 degree mark. That has only happened 3 times in Des Moines since 1951.
Here is a great map with all the facts from Iowa Environmental Mesonet courtesy Iowa State University Department of Agronomy. http://mesonet.agron.iastate.edu/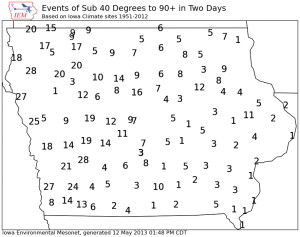 Notice the number of times going from sub 40 to above 90 are higher in western Iowa. They have drier soil types and even help with much warmer wind from the Rockies. That wind is usually drier. Often called Chinook Wind.
Tomorrow we will have gusty south wind over 20 MPH. We have a Fire Weather Watch area for western and central Iowa.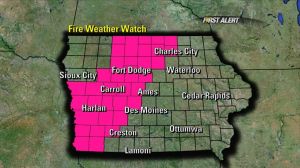 This means the wind and very warm air will dry out our ditches…pastures and grass lands very quickly. Any outdoor burning could lead to large wild fires. That means even a cigarette could spark a dangerous flame.

Two of my favorite people and TV 13 are Erin and Sonya. Their friendship is extremely dear to me. So it makes me very happy that they will be nice and comfy in the air conditioning tomorrow as I go live with the Boys and Girls Club of Central Iowa.
We will chat about the Boys and Girls Club fundraiser this Saturday night. It involves Bikes, BBQ, Beer and Bands. You will see the Harley that will be raffled off to raise money for some amazing kids.
More importantly you will meet the young many who has won Youth of the Year for the BGCCI.