This is an archived article and the information in the article may be outdated. Please look at the time stamp on the story to see when it was last updated.
It was a pretty eventful evening in Central Iowa. Not that RAGBRAI coming through town wasn't enough…we had severe storms that rocked northern Iowa and then swept across central Iowa. The wind was blowing down corn and trees. The hail will have insurance adjusters filling out forms the rest of the week.
Cris Downey was just one of many who were sending in the amazing Mammatus cloud formations. These clouds that look like a bag of marbles…usually are associated with severe storms. They are often created as storms disrupt the atmosphere ahead of the actual storm.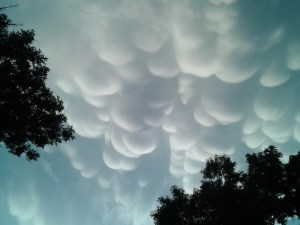 Severe storms were lighting up the sky in Altoona. Check out this strike from Eric Kelderman.

Christine Melton sent in these monster hail stones from Boone.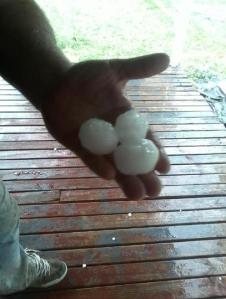 Jake Groth had these mammoth hail stones busting the sod in his backyard.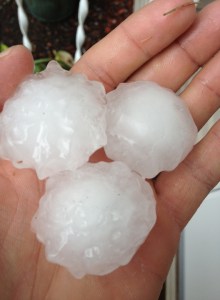 Get ready for the RAGBRAI crew that will take over Des Moines today. It will be a sweet ride with highs around 80 and a clear sky.
Then….we will get ready for the Balloon Classic in Indianola. The balloon pilots had a great day to show off over Des Moines before their big event next week. Angie Kufner sent in this cool picture of the hot air over the capitol this morning.