This is an archived article and the information in the article may be outdated. Please look at the time stamp on the story to see when it was last updated.
So I've been thinking a lot about the different jobs I've had over the years.  I've been a babysitter, a life guard, a swim instructor, a waitress, a bartender, a referee, a fitness instructor, a photographer, a reporter, an anchor … those first four jobs also included being a janitor …
Anyway – I've had a number of different jobs.  I didn't hate any of them.  There were aspects of some that I didn't love (being a janitor) – but I've been pretty lucky.
Do you have a "worst job ever" to share?  How about your worst first day at a job?  Give me your stories and then I'll tell you about some of ours … Dan Winters wins "worst first day" by a landslide.
The great thing about the job I have now is having the opportunity to meet a lot of new people and experience a lot of new things.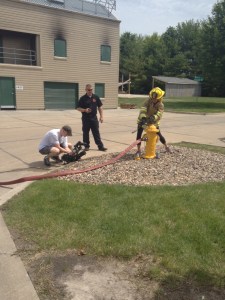 Taking the Urbandale Fire Department's physical capability test is the most recent adventure.  Sonya and I hope you'll tune in Wednesday at 10 to see the test, find out how we did, and learn a bit more about women in fire service.
Our firefighter training continues … even though Sonya thinks she broke her toe…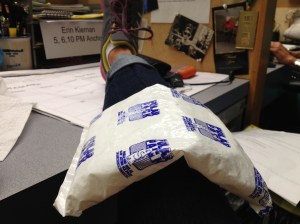 … and I did something to my knee.
Suck.  It.  Up.