This is an archived article and the information in the article may be outdated. Please look at the time stamp on the story to see when it was last updated.
By Chris Hassel
One team was up 15. The other was down 9. One team won. The other lost.
The Cyclones found themselves in a hole against 9th ranked Baylor, but it was almost as if the Hilton crowd willed ISU to victory. It's Iowa State's second top-ten home victory, and 7th straight at Hilton. The 'Clones clinched the 3-seed in the Big 12 Tournament and will play Texas in the quarterfinals. I think ISU can make a run but I'm a little worried about the game with the Longhorns. Texas needs to win to make the NCAA tourney. It's a much bigger game for them than it is for the Cyclones. I still see ISU winning and setting up another showdown with Missouri. Maybe this time the Cyclones will find a way to beat the Tigers. ISU should be no worse than a 7-seed in the NCAA Tournament. Keep winning, and their seed will keep improving. Oh, and the Cyclones should be ranked in the AP Top 25, come Monday.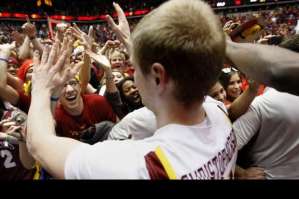 Courtesy: Des Moines Register
The Hawkeyes were cruising in front of a jacked up crowd at Carver. Iowa was up 15 in the first half against Northwestern, and them the wheels came off. For about a 10-minute span, the Hawkeyes looked as bad as they ever have under Fran McCaffery. Iowa fell behind by double-digits before clawing its way back at the end of the game. The Hawks had the ball, down 2, with 10 seconds left, and Matt Gatens never touched the ball. Many are upset that Josh Oglesby took the last shot of the game. I'm not. It was an open shot, and you could tell Oglesby wanted to take it. He said he thought it was good when it left his hand, and so did everyone else. McCaffery stood up for his player after the game, saying that he would tell the freshman to take that shot again. The Hawks will play Illinois in the first round of the Big Ten Tournament, on Thursday. Iowa needs to win to have a chance to play in the NIT.
The Ankeny gave top-ranked Iowa City West all it could handle in the 4A girls title game. The Hawkettes came from behind to force overtime where they lost star player Maddie Manning who fouled out of the game. When she left the court, so did Ankeny's chances of winning another title. It's still hard to believe that the Hawkettes won four straight titles from 2002-2005. It's looking more and more impressive with each passing year.
Congrats to Grand View on winning the NAIA wrestling championship. The Vikings got to host the event, and hoist the trophy.