This is an archived article and the information in the article may be outdated. Please look at the time stamp on the story to see when it was last updated.
OKLAHOMA CITY, Oklahoma – The Panthers' incredible late-season run is over after blowing a seemingly insurmountable lead in regulation and falling in double overtime on Sunday night.
No. 11 seed Northern Iowa (23-13) suffered the biggest collapse in NCAA Tournament history and lost to No. 3 seed Texas A&M (28-8) by a score of 92-88 in a double overtime thriller.
The Panthers all but won the game when they initially led the Aggies by 12 points with 35 seconds left in regulation. Even the Panther players couldn't help but think they were on their way to the Sweet 16 for the second time in school history.
"Yeah, it felt like we were a minute away from dancing," Northern Iowa forward Paul Jesperson said during an emotional postgame interview session. "Texas A&M made some great -- they had some great individual plays. Yeah, they made some great individual plays, and we weren't able to make a few that we needed to make. So credit them."
The Aggies didn't give up and stormed back, forcing several turnovers and turning Northern Iowa mistakes into quick points to tie the game with 1.6 seconds to go. A Panther heave from near half-court was off the mark this time around and the game would enter its first overtime.
"Man, we played our tails off, and unfortunately, we were on the wrong side of just a crazy 30 seconds," Northern Iowa head coach Ben Jacobson said. "You know, 30 seconds that we aren't going to be able to ever have an answer for, nor do we need one, it just happened to go that way."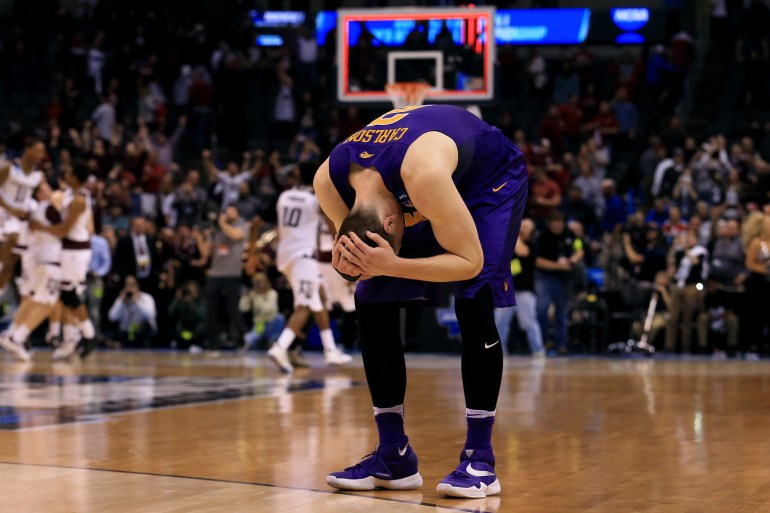 "(Texas A&M) just turned up the pressure a little bit," Iowa guard Wes Wasphun said. "(They) started denying in the passing lanes. Bo was out of the game. He's usually the one that inbounds the ball for us. But credit to Texas A&M for turning up the pressure and making some plays when they had to."
As the team was still shocked and reeling, Northern Iowa continued to fight. With the teams tied at 79 with 52.3 seconds left in the first overtime, Panther Wyatt Lohaus drilled a three-pointer.
Texas A&M's Alex Caruso answered with a clutch layup to bring UNI's lead down to one point. Jeremy Morgan would make one of two free throws after being intentionally fouled, and Caruso would hit a jumper to send the game into double overtime.
In the second overtime, the Aggies were able to close out the Panthers at the free throw line in the final seconds after grabbing a quick lead. Texas A&M will now advance to the Sweet 16 to face No. 2 seed Oklahoma, a team the Panthers certainly thought they'd be playing earlier in the night.
"(We'll lean on) these guys here and the rest of the guys in the locker room, and the coaches because no one else saw what we did this season, and no one was with us every day, getting up early, shooting shots, dogfighting through practice, trying to turn this thing around from 10-11," Northern Iowa guard Matt Bohannon said. "I hope people understand just how much we came together and how much if you believe you can do something special. Man, I'm just going to lean on these guys. I mean, we'll eventually get over it, but we're just going to need our time for now."
Morgan's career-highs of 36 points and 12 rebounds led the Panthers while Klint Carlson scored 17 points, including several big shots in the second half.
Caruso was huge for the Aggies, particularly in the overtimes, as he scored 25 points and grabbed nine rebounds. Danuel House was also instrumental in Texas A&M's comeback for the ages as he posted 22 points and eight rebounds.
"It's just tough. It's the NCAA Tournament, though, that's what happens," Bohannon said. "Paul's shot doesn't go in a couple days ago, we go to overtime, we don't know what happens. So it just is a wide range of emotions. And just couldn't have been prouder to be with Paul and Wes here and understand what we did this season and what we showed the country and how we understand that we should be moving on."