This is an archived article and the information in the article may be outdated. Please look at the time stamp on the story to see when it was last updated.
By: Michael Admire
I don't think I'm in Kansas anymore. I made the move from my home of 6-years in Pittsburg, KS to my new home right outside of downtown Des Moines. It didn't take long to realize the passion Central Iowa has for its sports, and I couldn't be more excited to be a part of it.
I got to experience my first Iowa Hawkeyes basketball game. It was exactly how everyone described it would be. They look like a 'Top 15' team at times… and then they look like a team that gets beat by Nebrasketball. Give it to the Huskers though, it was an electric atmosphere and the team fed off of it. The Hawkeyes got tentative when they couldn't afford to. Unfortunately, Cooter Ray wasn't there.
I've heard the cries for Hassel's return, but he's busy taking Bristol by storm. Luckily for us, he's on national TV so we can see his talented work from anywhere. He's irreplaceable and I'm not here to try. But I am here to tell sports stories.
Any idea's you have send them my way on twitter (@Admire_OnAir) or  by e-mail (Michael.Admire@who13.com).
Rookie hazing was in full force. Murph and Andy posted a picture from my graduation announcement for college. That turned out well. I gained 250 twitter followers and spent all day reading everyone's clever take on my fashion. A lot of my friends and family loved the responses. They can see I'm in good company.
Yes, I'm a Pittsburg State Gorilla. Here's my alma maters logo: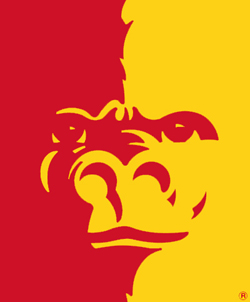 The Jayhawks are coming to Ames this Monday. I'm ready to see Hilton Magic at work.
I learned this week that I have a Southern draw. Hope y'all don't mind. Keith is slightly entertained by that and my choice of music genre, Red Dirt/Texas Country. I'm working on a sports office playlist with some Randy Rogers, Bart Crow, and Josh Abbott. I hope they don't mind.
I've never appreciated the iPhone more than I do this week. Without it, I'd be lost and hungry.
I'm a person that is always thinking five steps ahead. It only took one week to realize that this is the best decision I've made in my young career. Keith and John are so talented. What you see through the TV is exactly what type of people they are.  It's humbling to be in the same room and work on the same set as they do. I've been a sponge soaking in every piece of advice they've dropped this week.
So, in a game of 'first impressions' I'll give the edge to you, Central Iowa. Thanks for the warm welcome. I hope to return the favor by adding to an already outstanding sports department.