This is an archived article and the information in the article may be outdated. Please look at the time stamp on the story to see when it was last updated.
By Michael Admire
East got as many hits (one) in the 9th inning against Davenport North, as Johnston got the entire game (one) against Linn-Mar. Both advance to the semifinals, so the stage is set for a great CIML rematch on Friday at 6 PM.
The defending champs are done. Ankeny fell into an 8-0 hole after two innings and eventually lost 10-8. This is Clinton's first state win since the 70's. That will be a fun story line to watch the rest of the way.
Trade deadline lived up to the first half of its name. It sure was dead. Ian Kennedy was the biggest name on the move and he went to team that is 9 games out of any playoff race.
According to USA Today, Major League Baseball is prepared to suspend Alex Rodriguez for life. If he's not suspended for life, then drop the ban on Pete Rose. Rodriguez isn't the only guilty party, but this has to happen. It would be more than a statement. It would be a precedent.
There's too many good stories in baseball now to dwell on cheaters. How about the Pittsburgh Pirates? They're 22 games above .500 and winning with great pitching and defense. Watch them play.
I spent Sunday and Monday watching baseball in Chicago. It was my first trip to the 'Windy City' since I was two years old, so I did some sightseeing but it was mainly about baseball.
On Sunday we caught the Royals-White Sox game. This was also my first time seeing the Royals away from Kauffman, so I was a little nervous about going into US Cellular. For the most part fans were great. Alex Gordon hit a 2-run home run in the 12th (the eventual game winner) so my natural reaction was to cheer. Nothing overboard, and nothing that lingered on, but I did make some noise. A few fans that had a couple Miller Lights started a "1985" chant and reminded me about how terrible the Royals have been since I've been alive. Other than that isolated situation, US Cellular was great. One employee even let Brandon and I use his broom to help sweep part of the season. Royals couldn't do it all.


Monday we walked around downtown all day before hitting the 'Redline' to Wrigley.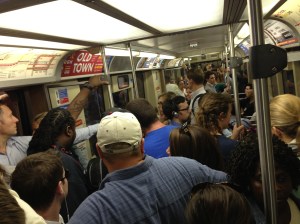 It's full of nostalgia and a smell I will never forget, because I don't want to. From the Rooftop seats to the Vines, it was a bucket list experience. Favorite part was a tie between the 7th inning stretch and the urinal troughs (man I miss those things).

Deep dish is the ultimate food-coma. Flaky, thick crust and sausage patties make it hard to stop eating. Giordano's was my favorite of the two places I went.

I'm a huge fan of regional foods: Chicago Pizza, tacos in Cali, Chili in Texas, and jerk in Jamaica. But BBQ in KC stays a top the list.