This is an archived article and the information in the article may be outdated. Please look at the time stamp on the story to see when it was last updated.
CEDAR FALLS, Iowa — An Iowa Olympian is donating his gold medal to his alma mater in hope of encouraging future athletes to follow in his footsteps.
Bill Smith won a gold medal in freestyle wrestling at the 1952 Helsinki Olympic games after winning two national titles in his wrestling career at Iowa State Teacher's College, which is now known as the University of Northern Iowa.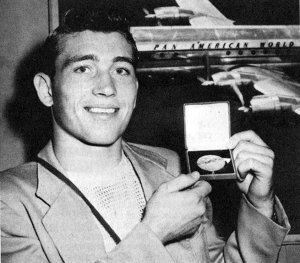 Smith is now 88 and says he wants his medal to be displayed somewhere where it will be seen.
Current UNI wrestling coach Doug Schwab says, "Even though it was won over in Helsinki, it was still made in the West Gym. I think that's the connection and taking it back to the start and to inspire, not just wrestling, but anyone who comes through the hall. Track is in here and softball. It's to inspire the next generation. I couldn't be more pleased that it will be the resting spot for it. It will inspire me every day too and lets us dream a little bit."
Smith is the only gold medalist in UNI athletics history.
The medal will be put on permanent display at the school's West Gym.