This is an archived article and the information in the article may be outdated. Please look at the time stamp on the story to see when it was last updated.
IOWA CITY, Iowa -- The Hawkeyes fought back from a substantial deficit on Tuesday night but ultimately dropped their fourth straight game.
Playing in front of arguably the loudest Hawkeye crowd of the year on Senior Night, No. 16 Iowa (20-10, 11-6) fell to No. 12 Indiana (24-6, 14-3) by a score of 81-78 in the final game of the season at Carver-Hawkeye Arena. Indiana clinched the Big Ten regular-season title outright with the win and handed Iowa their fifth loss in their last six games. 
"I was proud of them," Iowa head coach Fran McCaffery said following the game. "You have to be honest with them. The only real negative that I saw was that they scored seven of the first eight to start the second half and that was disappointing. I wouldn't say our effort was horrendous. It was commensurate with what was needed down six (points). We needed to be a little better. Give them credit because they scored and moved the ball."
Iowa star Jarrod Uthoff finished with 18 points, eight rebounds, and two blocks but struggled with his shot throughout this matchup as he finished 5-of-17 from the field. Indiana's leader, Yogi Ferrell, posted 20 points and five assists while also hitting the shot of the game.
"I had a bunch of good looks, they just didn't go down," Uthoff said. "That's been the story of the last seven or eight games for me. I just can't make any shots. It happens. The best players in the world go through stretches like that. I just have to keep shooting and taking those open looks because sooner or later they will go down."
A thrilling second half between two of the top Big Ten teams was seemingly put out of reach for the Hawkeyes when Ferrell hit a cold-blooded 3-pointer to give the Hoosiers an 80-75 lead with 35 seconds to go.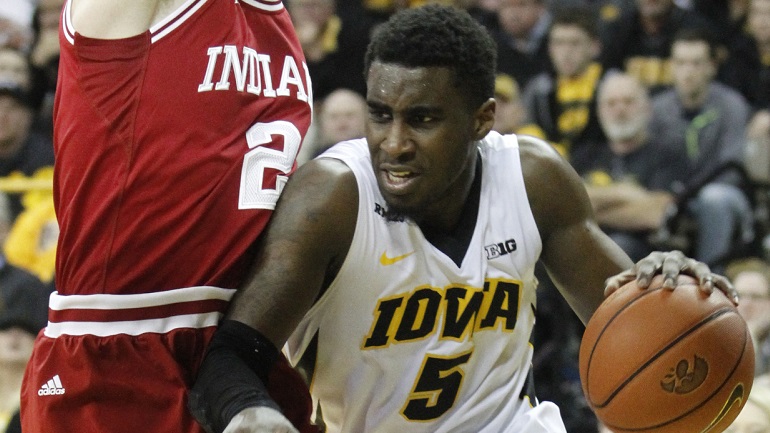 However, Iowa would make things interesting in the final seconds as they were down three points and had a chance to tie with 2.1 seconds to go. Peter Jok found himself open in the corner but his 3-pointer fell short and Indiana escaped.
"We're fine and we're improving," Iowa guard Mike Gesell said. "We hit a little slump but I think we're getting better every game. It stinks not winning them, but this is a time you want to start peaking and I think we made strides tonight."
The Hawkeyes were once down 14 points in the second half as Indiana had control of the game and showed little sign of relinquishing it. Iowa would respond with a key run of their own, re-energizing the raucous crowd by taking a 74-72 lead with 4:30 remaining before falling short.
Iowa allowed a season-high 47 points in the first half but was only down six points at the break. The Hoosiers shot the lights out in the first 20 minutes, hitting 60 percent of their shots overall and 72.7 percent from three-point range.
"You look around America and around college basketball, every team that's been at the top has gone through a (tough) stretch," Iowa guard Anthony Clemmons said. "We just happen to be going through it at the end of the season. I was just telling our guys we have a lot of season left. It's not time for us to hang our heads."
Before tip-off between the Hawkeyes and Hoosiers, the University of Iowa honored seniors Uthoff, Clemmons, Gesell, Adam Woodbury and Okey Ukah at center court as they received standing ovations from the Hawkeye fans in attendance.
A unique aspect of this year's Senior Night for Iowa, among the well-deserved love, is the fact that four of the five senior players are starters. It's a rarely seen characteristic of a team in an era that consistently features players leaving school early for the NBA.
In their final game of the regular season, Iowa will travel to Michigan to face the Wolverines on Saturday.
"The ultimate goal is always to win a national championship, I said that at the beginning of the year," Uthoff said. "That's not out of reach. It's still in our grasp."