This is an archived article and the information in the article may be outdated. Please look at the time stamp on the story to see when it was last updated.
IOWA CITY, Iowa -- Like in any rivalry, there`s one viewpoint and then there`s another. So Thursday night when things got a little testy at the end of the CyHawk game, fans let their voices be heard.
"Talking about what you saw last night in the CyHawk game, Kevin has been waiting for awhile, Kevin, what did you think?" Andy Fales said during his KXNO Murph and Andy sports talk show.
"Emotions were high and it was a very well played basketball game I felt," KXNO listener, Kevin, said.
"I think it amps up because it's in-state you get this with fandom anyway. People overreact to stuff, sports, more than they should, you know, care more about it than they should," KXNO host Ross Peterson said. He saw this first hand on social media Thursday night.
ESPN`s Dan Dakich called out Iowa state`s head coach Steve Prohm on Twitter saying he was part of the problem, not the solution. While some Iowa State fans liked what they saw from their coach, like Mark Richter who tweeted "Prohm always handles unexpected aspects of the game with class, honesty, and perspective."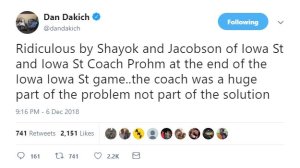 "That classic overreaction, it happens more when you have the in-state rivalry, when it's Iowa or Iowa State, but it's always 'my guys do nothing wrong and your guys are always the bad guys.'"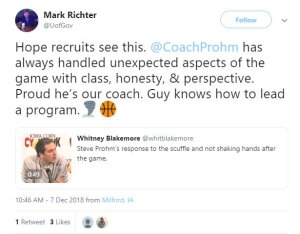 But no matter the chatter, both coaches quickly worked to diffuse the situation and shook off any controversy with teams leaving without shaking hands.
"This stuff with all the interactions, I apologize to Iowa and their staff. You know in that repercussions or interactions, if I disrespected anybody,"  Iowa State Men's Basketball Head Coach Steve Prohm said.
"I have tremendous respect for Steve Prohm, really do. They have a really good team. They are going to win a lot of games, they have been terrific so far this season. Wish it didn't happen, but it's just competition and we will move on," Iowa Men's Basketball Head Coach Fran McCaffery said.