This is an archived article and the information in the article may be outdated. Please look at the time stamp on the story to see when it was last updated.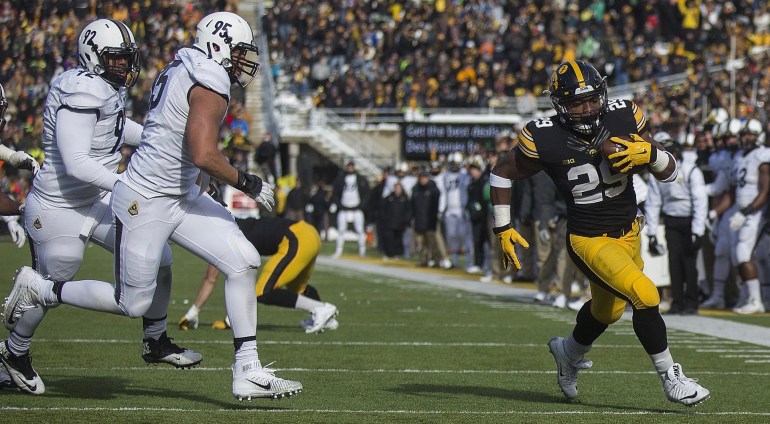 IOWA CITY, Iowa – The Hawkeyes added another win to their resume on Saturday and have clinched a berth in the Big Ten Championship game.
No. 5 Iowa (11-0, 7-0) defeated Purdue (2-9, 1-7) by a score of 40-20 on Senior Day. One of the team's biggest goals was accomplished, as the Hawkeyes won the Big Ten West with the victory.
"It's a little bittersweet," senior center Austin Blythe said after the game. "It's a day I will remember for the rest of my life."
Purdue was able to hang around in this game briefly, but Iowa put them away in the fourth quarter and just keeps getting the job done. C.J. Beathard finished 12-of-20 with 213 yards and three touchdowns, which ties his career high. LeShun Daniels rushed for two touchdowns in the win.
Defensively, several Hawkeye players produced solid outings. Desmond King had 11 tackles and a career-high three pass breakups. Jordan Lomax set his own career high in tackles with 13. The two defensive backs were two of four players who posted at least 10 tackles on the day.
The Hawkeyes stormed out to an early 20-0 lead before the Boilermakers fought back to make things a little more interesting. After scoring three touchdowns last week against Minnesota, Daniels scored twice in the first quarter.
Early in the second quarter, Beathard found Matt VandeBerg on a flare pass, and he was able to follow excellent blocking into the end zone.
Purdue started to regain some confidence when Markell Jones scored on a 1-yard run following VandeBerg's touchdown for their first points of the day. The Boilermakers were able to pull within seven points of Iowa after the VandeBerg score, before the Hawkeyes regained control.
Late in the third quarter, Beathard connected with tight end George Kittle down the middle of the field for a touchdown as Purdue called an all-out blitz.
"We have a lot of guys that can make big plays and when they call our number, we seize the opportunity," Kittle said.
Iowa ended any hope Purdue had of a comeback when Beathard hooked up with another one of his tight ends for a touchdown, Henry Krieger-Coble. They took a 33-13 lead at the point and sealed the win later with a big Jordan Canzeri touchdown run.
The Hawkeyes' resurgent season moves forward and the team remains undefeated. While their opponent in the Big Ten Championship has yet to be determined, Iowa extends their school record for best start to a season to 11-0.
The win also marks the first time the team has recorded a perfect home record since 2004.
Kirk Ferentz and his team will look to make it a perfect, 12-0 regular season next week against Nebraska in Lincoln. The game is set to kick off on Friday, Nov. 27 at 2:30 p.m. CT.
"Nebraska is a heck of a team," Krieger-Coble said. "We know its a big challenge ahead of us."