This is an archived article and the information in the article may be outdated. Please look at the time stamp on the story to see when it was last updated.
EAST LANSING, Michigan – Iowa will be going for the season sweep of Michigan State on Thursday after beating the then-ranked No. 1 Spartans in Iowa City on Dec. 29.
Now ranked No. 4, Michigan State will certainly have revenge on their minds against Iowa, with a healthy Denzel Valentine this time around. Valentine, one of the nation's top players, is averaging 17.8 points, 7.9 rebounds, and 6.8 assists.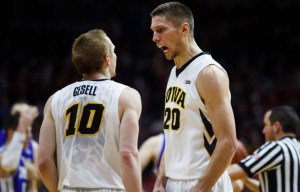 "When you go on the road and play one of the best teams in the country, you have to execute," said Fran McCaffery. "You have to defend, rebound, can't turn it over, limit their key personnel under their averages, and you can't make poor decisions with shot selection because that leads to open threes and transition baskets and gets us into foul trouble. All of that fits, and that's what we focus on."
The No. 16 Hawkeyes continue to improve their overall game, though it will be a tough challenge to win in East Lansing – a place they haven't won in 23 years.
"It's a tough place to play, the crowd is always into it and (Michigan State) feeds off the fans," said guard Anthony Clemmons, a Lansing native. "They're a tough team in general. Growing up there, I haven't seen a lot of teams beat them (at home)."
Iowa takes the court against Michigan State at 6 p.m. on Thursday. The game will be televised on ESPN.
"It's a lot of fun to play there," said Mike Gesell, reigning Big Ten Player of the Week. "This is one of the reasons you sign up to play college basketball, you get to play in games like this and go into environments like that."