This is an archived article and the information in the article may be outdated. Please look at the time stamp on the story to see when it was last updated.
DES MOINES, Iowa - Remnants of the burned Younkers building are slowly coming down in downtown Des Moines.
This week, the company handling demolition is bringing in specially made inflated bags. The equipment is designed to prevent any further damage to nearby structures as workers tear down the north wall. They will be placed between the Younkers building and the Des Moines Partnership.
"There's a lot of concern about that really big masonry north wall of the Younkers building and its stability as you demolish it because as you demolish it, you create vibrations on a very weak wall," says Des Moines Assistant City Manager Matt Anderson.
The March 29th fire that destroyed the century old building brought plans to redevelop Walnut Street to a halt.  City leaders say they are delaying the three block street scape plan for a year.
"You'd have action on the street right now if it hadn't been for the fire setback," says Anderson.
COMPLETE COVERAGE: Old Younkers Building Destroyed by Massive Fire
PHOTO GALLERY: Younkers Fire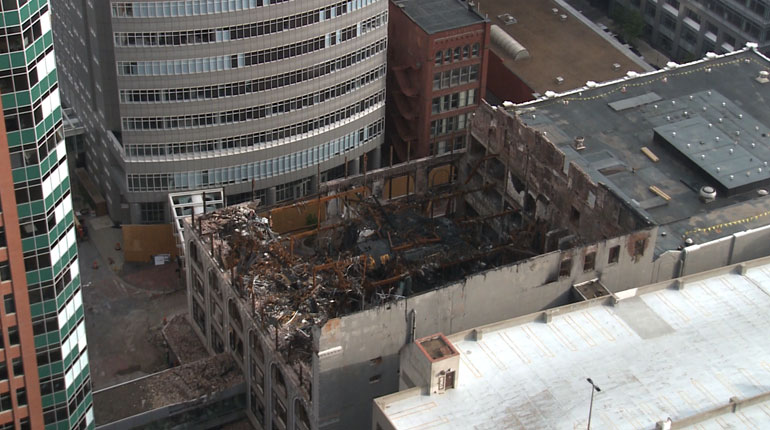 The fire didn't set back Des Moines artist James Ellwanger's plans to open a new gallery.  This Friday, Nest Gallery on Walnut Street will open to the public.
"It's kind of a new hope you know. This street was of grandeur at one time and it can be again very easily," says Ellwanger.
Ellwanger is teaming up with Moberg Gallery for the first show, "Art From The Ashes".   One of his pieces pays tribute to the Younkers building.
"You can still have a little bit of it. A little bit of the memory," he says.
The public is invited to the Nest Gallery opening this Friday from 5- 7 p.m. at 6th and Walnut in the US Bank Building. Some of the pieces for sale start at just $25.
View from the Marriot. Photo by Jerad Adams

Water streams onto the fire in this view from the Marriot. Photo by Jerad Adams

Nobody was injured by the fire and the cause wasn't determined.

The four alarm fire damaged a major section of the building and affected plans to rejuvenate the area.

View from the Marriott. Photo by Jerad Adams

View from the Marriott. Photo by Jerad Adams

View from the Marriott. Photo by Jerad Adams

View from the Marriott. Photo by Jerad Adams

View from the Marriott. Photo by Jerad Adams

View from the Marriott. Photo by Jerad Adams

View from the Marriott. Photo by Jerad Adams

View from the Marriott building Saturday morning. Photo by Erin Kiley