This is an archived article and the information in the article may be outdated. Please look at the time stamp on the story to see when it was last updated.
NEVADA, Iowa -- Prosecutors are continuing efforts to prove their first-degree murder case against Alexander Kozak.
Cheryl Farrington said she collapsed after hearing her 20-year-old daughter Andrea had been shot and killed while working at Coral Ridge Mall on June 12 last year.
"They said she'd been shot three times in the back and one of them pierced her heart and they were never able to get a heartbeat," Farrington said.
She said she had heard of the shooter. Andrea told her she was interested in someone named "Alex."
Cheryl Farrington described her daughter as bubbly and bold.
"You knew she liked you if as you left, she smacked you on the butt," she said.
On Tuesday, the jury got to hear some of the 8,000 texts that were sent between Farrington and Kozak during their relationship. Coralville police Officer and detective Rich Smith described them as ranging from "idle chit-chat to flirting" every day non-stop.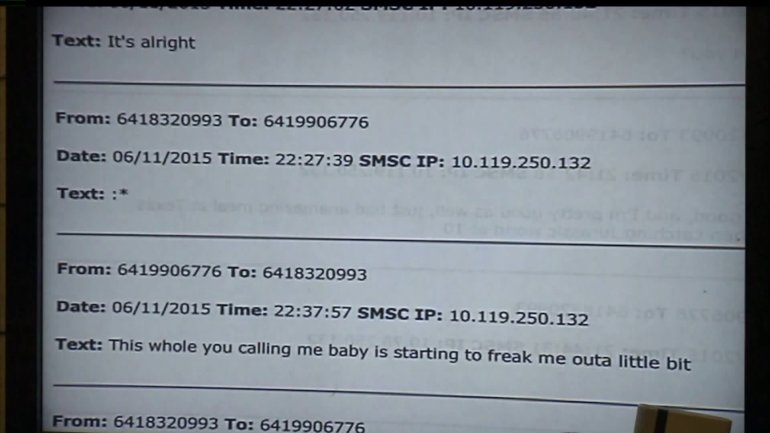 Farrington's last message to Kozak read, "Fine bye" on June 12 at 6:39 p.m. She sent it after he got upset when she told him she was interested in someone else.
The shooting inside Coral Ridge Mall was less than an hour later.
But Farrington wasn't the only person Kozak was texting. Jessica German met Kozak through social media, and she testified Tuesday saying that Kozak texted her the day of the shooting. He said he was "on the verge of snapping" and planned to go home, get his Glock and shoot Farrington.
"I've heard people say things that like before but I didn't actually think he meant it. I thought he was just joking around, was just saying it because he was frustrated," German said.
Kozak claimed he was "tired of her games" and "tired of being her little puppet."
Kozak was picked up by a deputy after he fled the mall following the shooting. Kozak admitted to shooting Farrington.
Trooper: "What was your relationship with her?"
Kozak: "We sort of had a thing."
Kozak:  "It was a sick and twisted thing.  (Inaudible) We had a relationship."
The state introduced some of the texts exchanged between Farrington and Kozak to try to show the crime was premeditated. Kozak's defense isn't disputing that he killed Farrington, but claims it wasn't first-degree murder.
The trial is taking place in Nevada because of pre-trial publicity.
Channel 13's Jannay Towne is covering the trial and will update with more details as the trial progresses.
"They said she'd been shot three times in the back and one of them pierced her heart and they were never able to get a heartbeat," Andrea's mother, Cheryl Farrington, said. (April 19, 2016)

"I've heard people say things that like before but I didn't actually think he meant it. I thought he was just joking around, was just saying it because he was frustrated," German said. (April 19, 2016)

"She had received a note on her car from Alex in regards to going to a concert, and she told me she felt creeped out about it. It was left on the windshield of her car," said Wendy Robbins, Kozak's supervisor at Coral Ridge Mall. (April 18, 2016)

Rudy Rodriguez came face-to-face with Alexander Kozak moments after the shooting. "He stopped right there, looked at me. I remember telling myself, 'If you turn around, he's going to shoot you.' I was like, do not turn around, do not turn around, do not turn around," Rodriguez said, unable to hold back tears. Friday, April 15, 2016.

"She was scary … she was scary white," Dorian Potter said. "I'm sorry it's the only way I can describe it. And I just, her eyes, her pupils were dilated. And she was just staring at me. That's all I can see." (April 15, 2016)

"I said, 'Hey, I'm here to help ya. If you can hear me, squeeze my hand back.' And I squeezed her hand, and she did not respond back to my squeeze," said Jeff Carew. (April 15, 2016)

"A man was screaming, 'He's shooting us, he's killing us. Run, run, run! He's killing us,'" Brynn Stanton Anderson cried on the stand. (April 15, 2016)

"I saw the gun come up, and I saw him fire the gun three time, and I saw the flash," said Kathryn Ogden. (April 15, 2016)

"I saw him pull out a gun and shoot Andrea three times," said Madison Tinkham. (April 15, 2016)
Related: Farrington Reported Kozak Made Her 'Uncomfortable' at Work Before Shooting
Related: Nearly 20 Witnesses Testify in Mall Shooting, Many in Tears Describing Chaos
Related: Emotional Witness Testimony: 'He's killing us. Run, run, run!'