This is an archived article and the information in the article may be outdated. Please look at the time stamp on the story to see when it was last updated.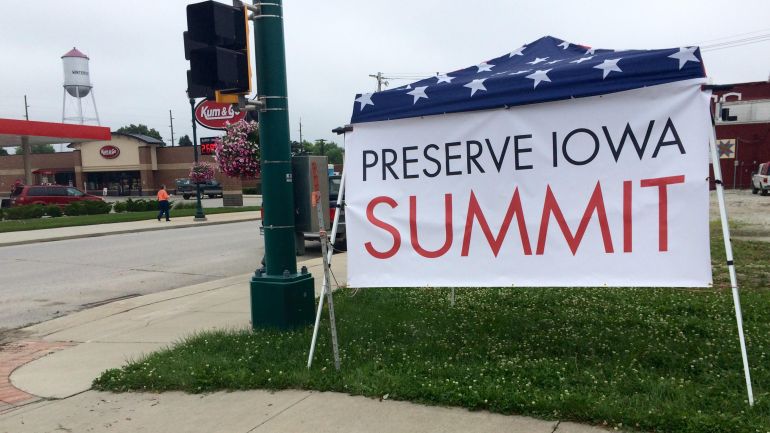 WINTERSET, Iowa – It seems logical to host the state's historical preservation conference in a town like Winterset. The small, eclectic community is what many would call the hallmark of historic preservation in Iowa.
"They were looking for historic buildings, they wanted something different," said Brenda Hollingsworth, a coordinator for the Preserve Iowa Summit. "We have a lot of historic buildings, and we found six wonderful buildings where we could host workshops."
The Preserve Iowa Summit, an annual event put together by the Iowa Department of Cultural Affairs' State Historic Preservation Office and the Madison County Historic Preservation Commission, brings together historic preservation professionals and volunteers for a wide range of educational sessions, activities and programs.
The three-day event kicked off Thursday and ends Saturday, with participants learning about state and federal historic preservation tax credits, historic preservation grant programs, rural cemeteries and preservation, and even have hands-on work with rehabilitation of historic interiors.
The conference will also include an all-day Underground Railroad workshop, with UGRR authority Matthew Pinsker as a keynote speaker. In addition, Winterset is celebrating its approval by the National Park Service to be listed on the National Register of Historic Places.
"Madison County, and Winterset, has one of the most intact historical squares in the state, but we've been slow getting it on the National Historic Register," Hollingsworth said. "So we inventoried 104 buildings around the square, and we wrote the nomination, and I'm excited to say it was passed on, which means we're in."
For more information on the Preserve Iowa Summit, click here.