This is an archived article and the information in the article may be outdated. Please look at the time stamp on the story to see when it was last updated.
DES MOINES, Iowa — A multi-million dollar hot lotto jackpot winner is suing the Iowa Lottery, claiming that the money illegally won by Eddie Tipton belongs to him.
Larry Dawson won the $9,090,000 hot lotto jackpot on May 7, 2011. The cash value of $6 million was paid to him at the time, and he was thrilled.
But now his attorneys are saying he's entitled to more money.
In a lawsuit filed Wednesday against the Iowa Lottery Authority and the Multi-State Lottery Association, Dawson's lawyers say he is entitled to $10 million plus interest.
"The odds aren't exactly what we call great to win the lottery, and if you actually win the lottery then you should get your prize," said attorney Jerry Crawford.
The Crawford-Mauro law firm saying Dawson should have been paid $16 million cash instead of $6 million and he would have if it wasn't for former lotto security executive Eddie Tipton.
Tipton was convicted last year of fixing the hot lotto game in December 2010. Dawson was the first jackpot winner after Tipton's rigged jackpot win.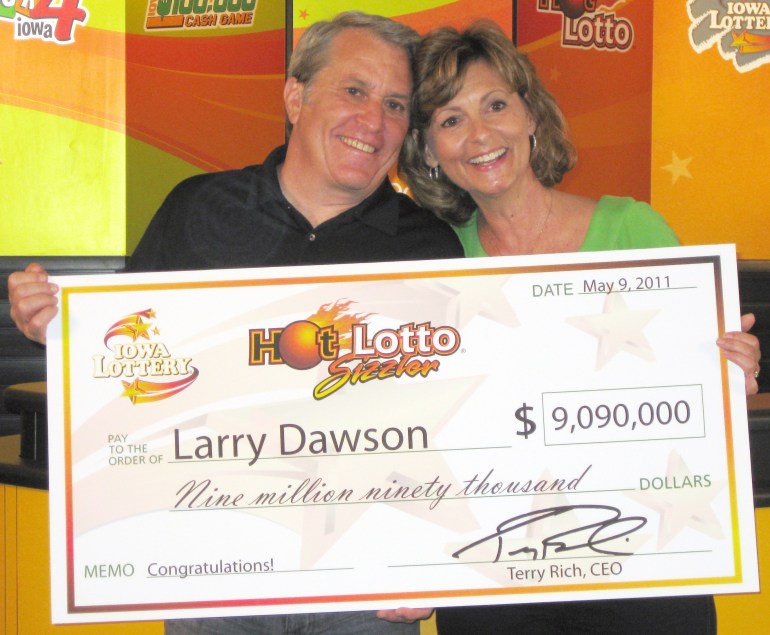 But Dawson's attorneys say they are only asking for the jackpot total for the drawing before Tipton's game because they don't want to cash in on everyone else Tipton cheated.
The money will not come from taxpayers but instead from the multi-state lottery, the lawsuit says.
"What we're asking the court to do is to award Larry the amount of the jackpot immediately prior to that drawing, because frankly everybody who played in the December 29th game played in a rigged game. And any dollars that contributed to the jackpot for that particular game shouldn't be Larry's, but it should go back to those people," attorney Nick Mauro said.
The Hot Lotto is a lottery game administered by the Multi-State Lottery Association for 15 state lotteries, including Iowa.
Statement from Terry Rich, Iowa Lottery CEO
"It is impossible to rewrite history. No one can know what would have occurred in this case had any event in it been changed.  We believe that Mr. Dawson rightfully was paid the jackpot to which he was entitled.
We at the Iowa Lottery are thankful for the work accomplished in the long-running lottery jackpot investigation by Iowa law enforcement and officials from around the country. Together, we have taken the actions necessary to ensure the integrity and security of lottery games today.
Our lottery will defend its efforts to protect lottery players in any forum, including in this litigation."
Timeline of Events
Nov. 20, 2010: Lottery executive, Eddie Tipton, rigged the Hot Lotto game.
Dec. 13, 2010: Tipton purchased a ticket for 12/29/2010 rigged drawing.
Dec. 29, 2010: Tipton's rigged numbers are drawn — jackpot is $10 million cash value.
Dec. 30, 2010: Lottery jackpot resets to $1 million.
May 7, 2011: Larry Dawson wins $6 million (cash value) jackpot, which would have been $16 million (cash value).
Dec. 30, 2011: $10 million returned to state lotteries.
Tipton's Arrest
Eddie Raymond Tipton, of Norwalk, was arrested in January 2015 and eventually convicted of rigging the Iowa Lottery in an attempt to win $14.3 million.
Tipton, the former information security director for the Multi-State Lottery Association, was sentenced to 10 years in prison on Sept. 9, 2015.
A 2011 jackpot payout on a Hot Lotto ticket bought in Oklahoma was also believed to be due to tampering by Tipton, Assistant Iowa Attorney General Rob Sand said in court in November 2015. That is the fourth allegedly rigged jackpot across four states believed to be linked to Tipton.