This is an archived article and the information in the article may be outdated. Please look at the time stamp on the story to see when it was last updated.
DALLAS COUNTY, Iowa – A West Des Moines Police officer has died following a crash involving a car and a motorcycle in Dallas County Wednesday.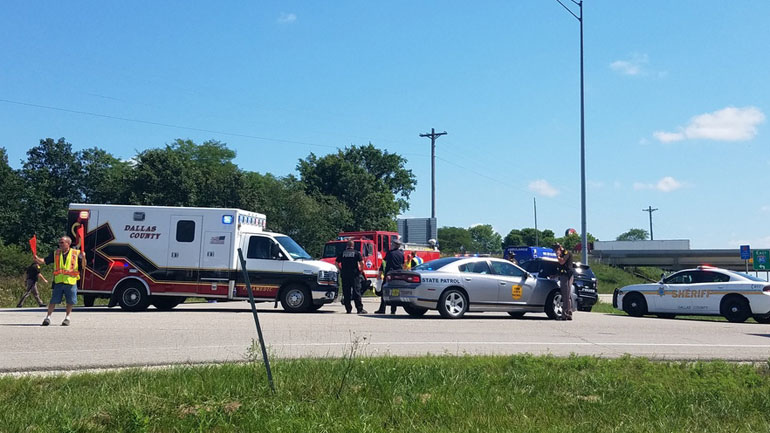 Officer Shawn Miller was traveling southbound on Highway 169 near the intersection of Highway 169 and the westbound I-80 on-ramp. Miller was traveling on his personal motorcycle when he collided with a car.
The Iowa State Patrol said that a car was making a left-hand turn from Highway 169 onto westbound I-80 and pulled in front of Miller's motorcycle. He was pronounced dead at the scene, the other driver was not injured.
Miller, a 26-year veteran of the West Des Moines Police Department, had left Adel after testifying in a criminal case when the crash happened. Funeral arrangements are pending.
Officer Miller is the third Iowa law enforcement officer to die in 2016. In March, two Des Moines police officers were killed in a crash along Interstate 80 in Dallas County. Officers Susan Farrell and Carlos Puente-Morales died after the patrol vehicle they were driving was struck head-on by a vehicle traveling the wrong direction on the interstate. The officers were transporting a prisoner, Tosha Hyatt, at the time of the crash. Hyatt was also killed. An investigation later showed that the driver of the second vehicle, Ben Beary, who was killed, was drunk at the time of the crash.
Miller is the second West Des Moines officer to die in the line of duty. Officer Marshal Swatta was shot and killed while responding to a gunshot near Valley Junction City Hall on March 1, 1933.