This is an archived article and the information in the article may be outdated. Please look at the time stamp on the story to see when it was last updated.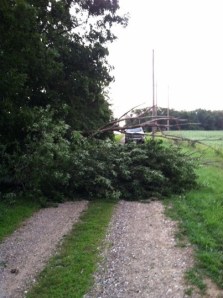 This is picture of trees knocked down in Brayton, IA yesterday. Michael Johnson sent it to our Photolink file.
The downed trees are not that unusual for a severe thunderstorm wind gust…but this time the damage was a result of a Heat Burst.
Basically a heat burst occurs when there is a big drop in the dew point as temperatures rise and gusty wind are created. It is kind of like a down burst. The phenomenon comes as fast moving storms suddenly end.
From the Des Moines NWS….
"A heat burst is characterized by a sudden rise in temperature, a drop in humidity, and strong winds that can approach or exceed severe levels. They are associated with high based decaying thunderstorms with a substantial dry layer beneath the base of the storm. As rain from the thunderstorm falls into the underlying dry air, it cools the air immediately around it, which becomes denser than the surrounding air and begins to sink. As this air sinks, it drys and compresses adiabatically, which results in the hot and dry readings recorded with heat bursts."
The temperature in Atlantic hit 102 yesterday when the hot air hit the base with the gusty heat burst wind.
Here are the other damage reports from the event.
0650 PM NON-TSTM WND DMG BRIDGEWATER 41.25N 94.67W

08/23/2011 ADAIR IA LAW ENFORCEMENT
TREE REPORTED DOWN ON A POWER LINE ON NORTH MAIN. DAMAGE POSSIBLY FROM A HEAT BURST.
0705 PM NON-TSTM WND DMG 1 S BRAYTON 41.53N 94.93W

08/23/2011 AUDUBON IA LAW ENFORCEMENT
TREE REPORTED DOWN ON A POWER LINE. TRAINED SPOTTER ALSO REPORTED LIMBS DOWN IN HIS YARD.

SPOTTER ESTIMATED WINDS OF AROUND 40 MPH AND OBSERVED A TEMPERATURE INCREASE FROM

76 TO 96 DEGREES IN A FEW MINUTES ALONG WITH A SHARP DROP IN THE HUMIDITY.

THIS EVENT WAS LIKELY A HEAT BURST.
0744 PM NON-TSTM WND GST FONTANELLE 41.29N 94.56W

08/23/2011 M60 MPH ADAIR IA MESONET