This is an archived article and the information in the article may be outdated. Please look at the time stamp on the story to see when it was last updated.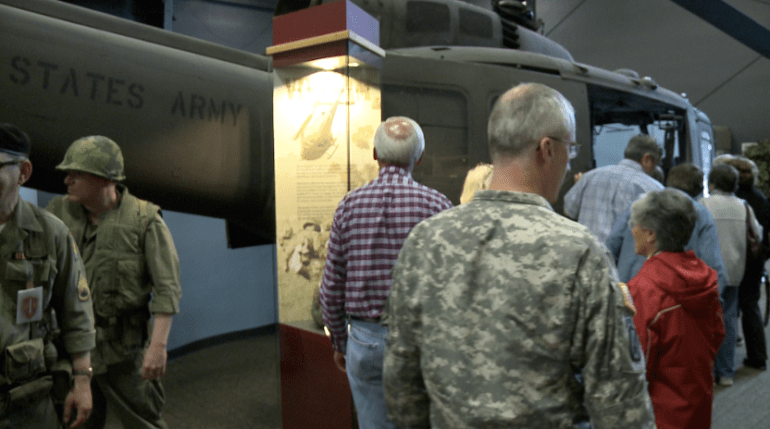 JOHNSTON, Iowa – Thursday marks the 40th Anniversary of the fall of Saigon, which effectively ended the Vietnam War in 1975. To honor the day, the Iowa Gold Star Military Museum at Camp Dodge in Johnston unveiled a new Vietnam War exhibit.
A ribbon-cutting ceremony for the opening of the exhibit brought out dozens of Vietnam War veterans from Iowa to pay their respects. Speakers saluted Iowans who made a sacrifice during the war, as well.
The interactive exhibit features a UH-1H "Huey" helicopter, a "Mule" half-ton utility vehicle, and other artifacts from the era. A full-scale jungle diorama and mural shows what the tunnel systems and guerilla warfare was like for soldiers to endure. One Vietnam War veteran says the best part about the exhibit is how realistic it is.
"Now I was in the Navy, so I didn't spend much time on the ground in Vietnam," said retired Commander Larry Spencer of the U.S. Navy. "I think I was only in Vietnam on the ground three times. But the fellows who were there said that the painting in the backdrop of the exhibit here is a very accurate portrayal of what Vietnam really looked like."
Next Thursday, officials will honor Iowa veterans of the Vietnam War at the Iowa State Capitol in remembrance of its 40th anniversary.