This is an archived article and the information in the article may be outdated. Please look at the time stamp on the story to see when it was last updated.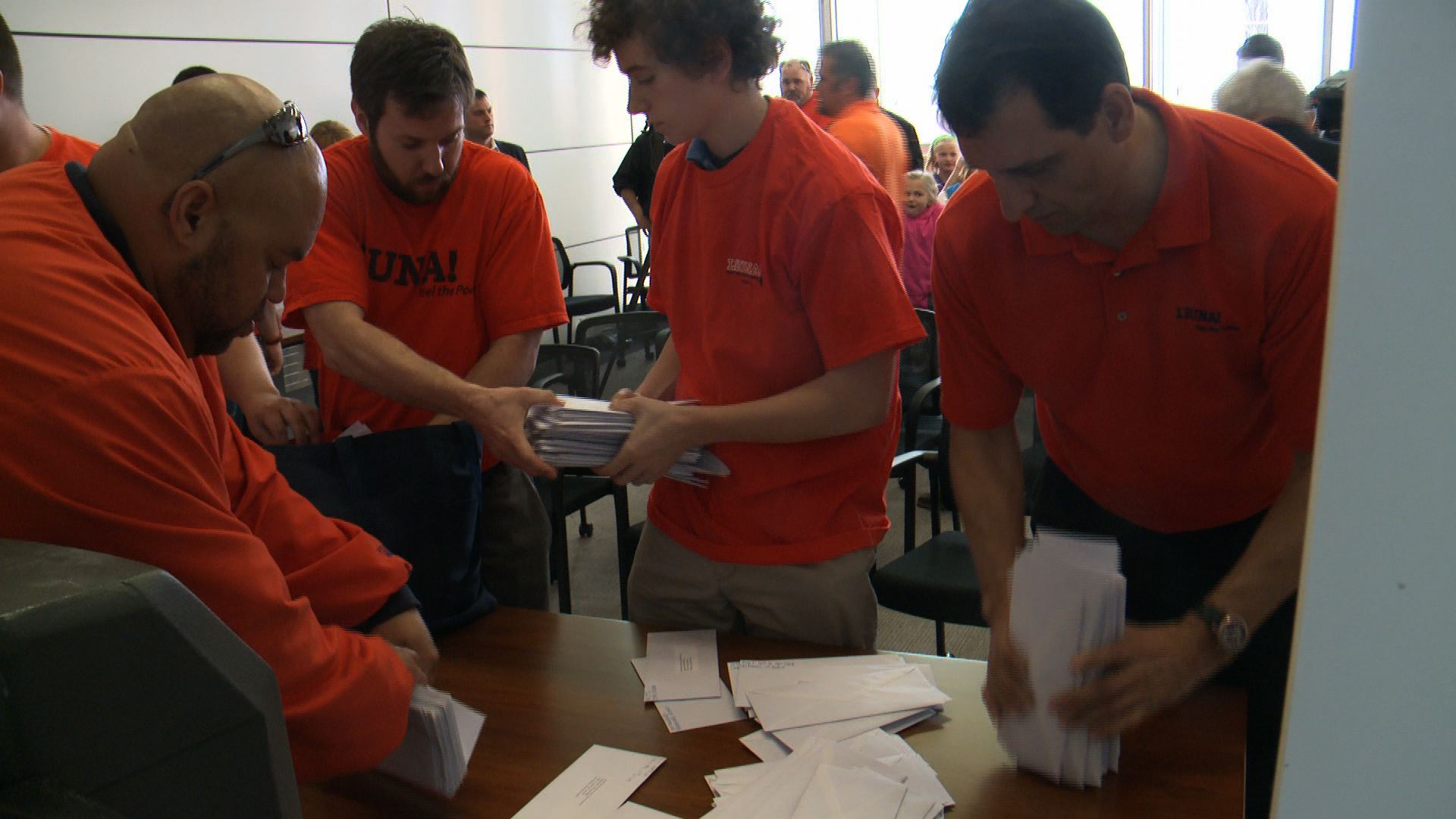 DES MOINES, Iowa – Members of the Laborers Union International, or LiUNA, Local 353 delivered letters to the Iowa Utilities Board supporting construction of the Dakota Access Pipeline Across Iowa.   The Union is supporting the project due to the possible 4,000  construction jobs the line would create. The proposed 30 inch line would move oil from the Baaken fields in North Dakota to a terminal in Illinois.   The line would travel 343 miles through 18 Iowa counties.
During a Monday morning news conference two members of the union outlined how they would benefit by working on the project. One worker told a story of working for $8.00 an hour at a hotel, with no benefits of chance for training.  Now the LiUNA has helped to train workers in safe pipeline construction.
Pamela Gilliam of Ackworth used to work at a hotel making $8.00 an hour, but has taken LiUNA training classes to work on the pipeline. "At my old job there was no incentive, benefits or training to move forward," said Gilliam.  "I got trained in safe pipeline construction, and now I am ready to work."  Gilliam joined a dozen or so other members from Local 77 of LiUNA to deliver the letters.  "I need this pipeline job, we all need work, benefits and job security," said Gilliam.
Anthony Wilkerson shared how pipeline work has helped his family. "My family would be living paycheck to paycheck," said Wilkerson.  "We are now able to put money aside for my kids college."
Richie Schmidt of the Local 77 office said, "our members have taken the initiative to voice their support for the Dakota Access Pipeline
with hundreds of comments by local workers anticipating approval."   Schmidt says they are aware of the safety concerns with the project. "The Dakota Access pipeline is the most environmentally sound way to transport a product that is currently being produced."
Also Monday, the Des Moines Register is reporting the Meskwaki Indian Tribe is opposing the pipeline.  The Tribe sent a letter to the Iowa Utilities Board opposing the line, even though it does not cross the Reservation.
The firm building the project, Energy Transfer Partners has reached out to communities along the pipeline route, and has been seeking to negotiate with individual landowners along the route, even though formal approval has not been granted.
The Iowa Utilities Board participated in community meetings across the route of the pipeline, but has not yet held any formal hearings on the matter.