This is an archived article and the information in the article may be outdated. Please look at the time stamp on the story to see when it was last updated.
DES MOINES, Iowa — Finding a way to get home from downtown Des Moines at a reasonable price is proving to be a challenge for those who use Uber.
Frustrated customers say surging prices are factoring into when they decide to call it a night.
Monica Schwab, from Indiana, was at the Kansas game Thursday and said the prices were "ridiculous."
"We had to wait around for like an hour after the game because it was so high. It was too high. It was ridiculous," she said. "Our Uber on the way there was reasonable."
That means people aren't going home when they want to, but when they can afford to.
Sid Juwarker said the high-priced fare caught him by surprise on New Year's Eve.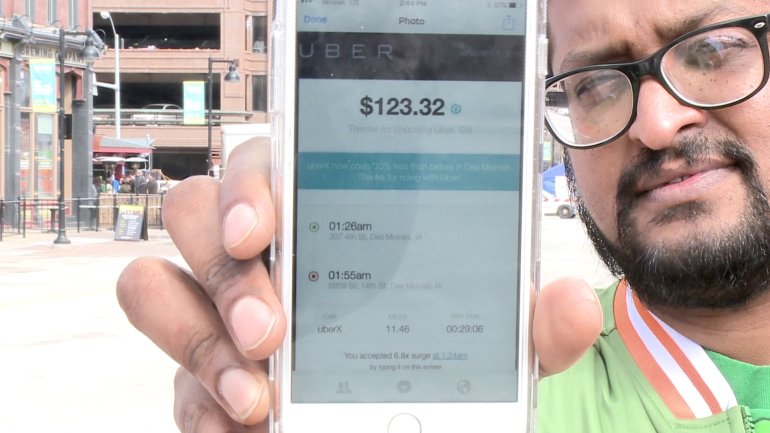 "I called an Uber at 1:26 a.m. and it was 11 miles, and my tab was $123. I accepted the surcharge, but at that point I wasn't really doing the math, I was just trying to get home. So that was a little sticker shock," Juwarker said.
Uber's pricing model has the goal of giving people the ability to get a ride anytime they need one.
"When there are big events out like the NCAA tournament in town, or St. Patrick's Day or other big events like New Year's Eve, demand exceeds the supply of cars out on the road. We get huge spikes in demand because there are so many people looking for a ride," said Uber Iowa general manager Michael White.
Prices do increase, and people can either pay the fare or wait until prices go back down. Uber says the process is transparent and customers can choose.
"In the app, you are notified before you request a ride of how much the prices have changed. You're able to estimate the cost of your ride to wherever you're going. And you can also be notified when the prices have returned to normal, so you can be notified when prices have dropped back down. We have a feature in the app that lets you split the fare with others who ride with you so you can share the cost of the ride," White said.
Uber says there is another factor causing the high prices. Local regulations in Des Moines restrict drivers from other cities from coming to town to help out with high demand events. Uber says in other markets, drivers from other cities are allowed to help out.
Below are some helpful links for Uber users: