This is an archived article and the information in the article may be outdated. Please look at the time stamp on the story to see when it was last updated.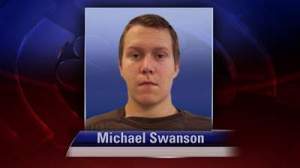 Two convenience store clerks were shot to death Monday night during attempted robberies at two different stores in Northern Iowa.
The first robbery was at 9:00 p.m. Monday at the Crossroads gas station in Algona (Kossuth County). The second robbery occured at 10:30 at a Kum and Go in Humboldt (Humboldt County).
Algona and Humboldt are 25 miles apart from each other.
The Kossuth County Attorney says a suspect in both shootings was taken into custody just before midnight Monday in Webster City.
The following information was released about the shootings in Kossuth and Humboldt County:
Two convenience store clerks were shot and killed during two separate armed robberies.
Vicky Bowman, 47, employee of The Crossroads Gas Station and Convenience store in Algona, was approached by a man in a ski mask and was shot after complying to the request for cash and cigarettes.  She died of her injuries at the Kossuth Regional Health Center.
The same subject entered the Kum and Go in Humboldt where he shot and killed Sheila Myers, 61 who also died of her injuries.
The subject was located at the McDonald's in Webster City and taken into custody by the Webster City Police Department, the Humboldt County Sheriff's Office and the Iowa State Patrol.
The subject has been identified as Michael Richard Swanson, 17, from St. Louis Park, Minnesota and has been charged with Murder in the First Degree and Robbery in the First Degree in both Kossuth and Humboldt Counties.  He is being held in the Kossuth County Jail and will be tried as an adult.