This is an archived article and the information in the article may be outdated. Please look at the time stamp on the story to see when it was last updated.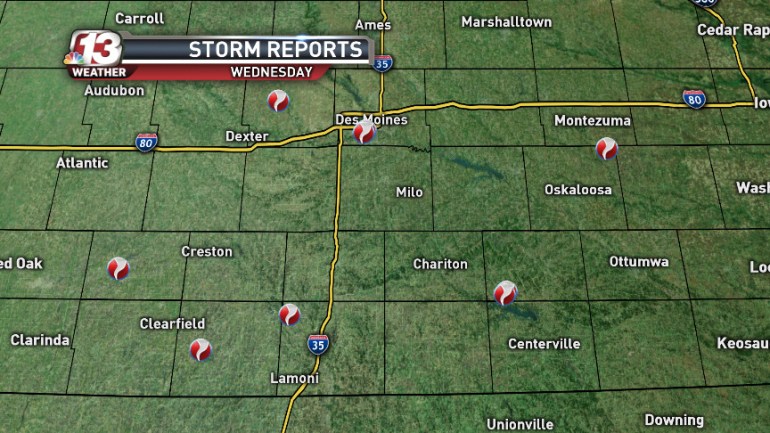 DES MOINES, Iowa — The severe weather has moved out of central Iowa but it left a mess in its wake and strong winds behind.
At least nine reported tornadoes swirled through the state Wednesday, including one in Des Moines near the airport. It struck around 3:30 p.m. and was caught on camera by a Channel 13 viewer.
PHOTO GALLERY: Storms Move Through Iowa
The southwest side of Des Moines was hit hard with strong winds that caused a lot of tree damage in neighborhoods. Power crews have also been working hard overnight after the storm knocked down power lines.
At one point around 7,500 MidAmerican Energy customers in the Des Moines metro were without power. As of 5:30 a.m. Thursday, fewer than 1,000 customers were still without of electricity.
Damage to the Walmart in Knoxville was also reported and several vehicles in the Walmart parking lot, including semis, were blown over by the storm.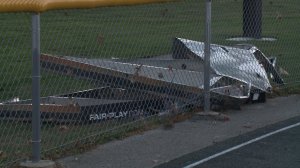 In Winterset, damage was reported on the grounds of the high school. The storm hit just before students were to be dismissed Wednesday. Winds blew down the $65,000 scoreboard at the football field, which was only two years old.  It also ripped off the roof of one of the dugouts at the softball field. The district does have insurance and officials hope to have the scoreboard replaced before the start of football season next fall.
The National Weather Service will send out teams to study the paths of the reported tornadoes Thursday and measure the damage done by the storms.