This is an archived article and the information in the article may be outdated. Please look at the time stamp on the story to see when it was last updated.
In many areas of the state it's gone from one extreme to the other in just days.
Water is over roads across much of the eastern half of the state.
The North Fork of Cedar Creek is covering parts of G-71 near Bussey in southeast Marion County. Class had to be canceled at the Twin Cedars School because the road was flooded and a water main in the area broke.
Along the same road a man had to be rescued from his car when it stalled as he tried to cross. His car has since been carried away by the water.
Marion County Sheriff Jason Sandholdt reminds people, "Anytime there's water across, you don't know how deep it is, the current can push a vehicle or person off the edge of a road and into peril. So we definitely don't want people attempting to drive across running water."
At the University of Iowa students at one dorm woke up to a mudslide. Officials say part of the bluff behind Mayflower Residence Hall collapsed just before midnight.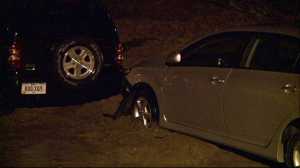 About five feet of mud and debris fill the parking lot in the rear of the hall. The mud buried portions of some cars and shoved other cars into each other, but no people were hurt.
Crews brought in big tractors to clear away the mess.
Classes went on a scheduled through the day.