This is an archived article and the information in the article may be outdated. Please look at the time stamp on the story to see when it was last updated.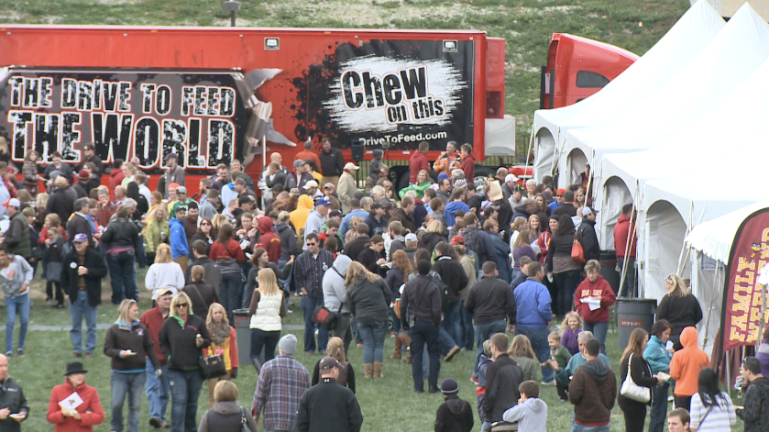 AMES, Iowa – VEISHEA may be a thing of the past for Iowa State University, but there's a new tradition cooking at the school, and it smells like bacon.
The second annual Iowa State University Bacon Expo is scheduled for Saturday, November 8 at the Hansen Agriculture Student Learning Center from 1:00 p.m. – 5:00 p.m. With a variety of bacon vendors, offering delicacies like bacon cheese curds, bacon cupcakes, and bacon-wrapped…well, anything, the student organizers behind the event expect it to be bigger and better than last year's inaugural expo.
"Pigs outnumber people one-to-seven in the state of Iowa," said Lexi Marek, a sophomore at Iowa State University and an organizer for the expo. "That means Iowans should be extremely proud of where they come from, because they are legitimately feeding the world. Bacon Expo gives Iowans a place where they can learn about the pork production, and celebrate bacon – because, who doesn't want to eat bacon?"
Co-chair for the event, Hannah Darr, says in their first year, the group sold about 1,200  tickets within 48 hours, and held the expo outside. This year, they're upping their capacity to 1,500 tickets, and will hold the event in the new Hansen Agriculture Student Learning Center. While the goal of the event is to educate the public on the importance of agriculture education, Darr says they're also looking to give back.
"Anything that doesn't get eaten will be donated to Food at First, so we try to incorporate a philanthropic side to it as well," she said.
In addition, Darr hopes one day the profits from the event could sponsor several scholarships for students at Iowa State looking to seek a degree in agriculture.
Ticket sales opened at 10:00 a.m. Friday, and are expected to sell out quickly. You can order here.