This is an archived article and the information in the article may be outdated. Please look at the time stamp on the story to see when it was last updated.
DES MOINES, Iowa — A Des Moines woman and two men from Nebraska were arrested over Memorial Day weekend at Gray's Lake Park.
Officers responded to a call at a parking lot at Gray's Lake Saturday evening and found a car blocking the only exit of the parking lot. Other drivers were honking at the car and a crowd of people nearby.
According to a police report, an officer asked the driver of the car blocking the exit, identified as 31-year-old Kuichuang Tap, of Lincoln, Neb., to move his car three times, but he did not move. The officer told Tap he would be arrested if he did not move. Tap did not move and refused to provide the officer with his driver's license.
"The angry crowd that was yelling and screaming started to move in on us," the officer wrote in the report. "I opened his door and ordered him out of the car.
But Tap said, "no," the report states.
The officer then grabbed Tap's left wrist to pull him out of the car, but Tap pulled away. The officer used pepper spray on Tap, but he was still unable to get the man out of the car. That's when the officer called for back-up.
Another officer at the scene was reportedly pushed by the "angry crowd." The officer who deployed pepper spray on Tap also used it on the crowd. A woman was trying to get into Tap's car at this point.
Tap then got out of his car and hit the officer in the jaw while he was trying to handcuff Tap, the report says. Additional officers arrived on scene and were able to get Tap into custody.
Two others were arrested, 29-year-old Myar Samuel Mareng, of Omaha, and 29-year-old Anna James, of Des Moines, and were each charged with interference with official acts.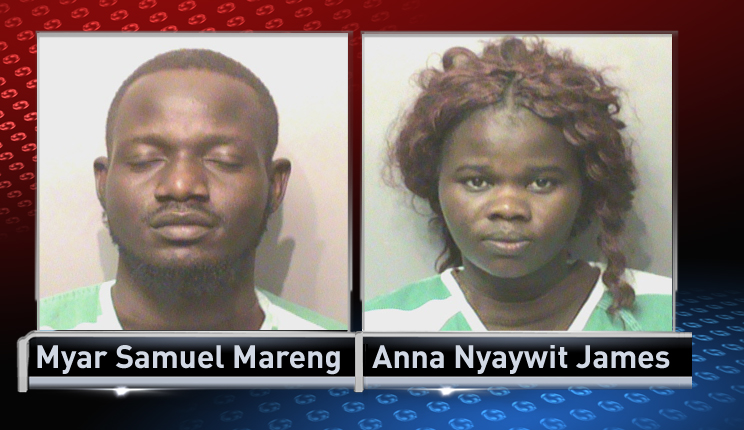 Mareng and James were reported arrested because they did not leave when officers told them to and they continued to yell.
The report states that a witness told police the group was driving in circles in the parking lot at Gray's Lake and were throwing glass bottles out the car windows.
Tap was charged with interference with official acts, resisting arrest and assault on persons in certain occupations.
Mareng and James have since been released from the Polk County Jail. Tap was released just after 3 p.m. Monday.
It was not made clear how many people were in the crowd.