This is an archived article and the information in the article may be outdated. Please look at the time stamp on the story to see when it was last updated.
DES MOINES, Iowa — The republican race for the White House is underway, according to Representative Steve King.
King made the remarks as he opened the Iowa Freedom Summit, a republican event that hosted more than 20 speakers including potential presidential candidates. "Do you think the next President of the United States is going to be speaking today?" King asked the crowd who applauded. "As do I," King responded.
The event, held by Citizens United and Rep. King, was seen as a way for candidates to test the waters of a presidential run with a little more than a year until the Iowa Caucuses.
Event organizers said more than 1,200 people attended the forum at Hoyt Sherman Place in Des Moines, including more than 150 members of the media.
PHOTO GALLERY: Iowa Freedom Summit
New Jersey Gov. Chris Christie, Sen. Ted Cruz of Texas, Wisconsin Gov. Scott Walker, former Texas Gov. Rick Perry, former Arkansas Gov. Mike Huckabee, neurosurgeon Ben Carson, former Sen. Rick Santorum of Pennsylvania, businessman Donald Trump and former Hewlett-Packard CEO Carly Fiorina were among those who spoke Saturday.
Mitt Romney and Jeb Bush did not attend the event.
And one potential candidate, Donald Trump, mentioned the two by name during his speech. "It can't be Mitt, because Mitt ran and failed. He failed," Trump said. "The last thing we need is another Bush."
Trump: 'I would go all out in Iowa'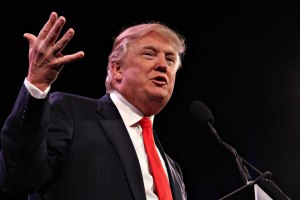 Trump has yet to decide if he will run, saying he will make a decision by this summer. "I'm looking at it very seriously … I want to make this country great again," Trump said in an interview with Channel 13's Dave Price. "I am seriously thinking of running for President."
"I'm going all out." Trump said that if he runs for President, he would employ an aggressive campaign strategy to win the Iowa Caucuses. "I would go all out in Iowa . . . I'm in a position now where I can do it."
Palin: "Seriously interested" in 2016 run
Sarah Palin discussed her memories of Iowa as she spoke to the audience. The former Alaska governor and 2008 republican vice presidential candidate recalled visits to the Iowa State Fair, running a half-marathon in Storm Lake and that her family dog was trained by a Des Moines animal trainer.
While speaking to reporters at a Des Moines hotel Friday night, Palin said she was "seriously interested" in running for president.
Palin has been out of public service for a number of years after she resigned her governorship in 2009. But most political watchers have thought her political career was behind her. Palin also teased a presidential run in 2011, but ultimately decided against it.
During the speech, Palin held up a "Ready for Hillary" sticker, referencing a possible run for the democratic nomination by former Secretary of State Hillary Clinton.
"I'm ready for Hillary, are you? Are you coming?" Palin asked to the cheering crowd. "Can anyone stop Hillary? To borrow a phrase, 'Yes we can!' And it starts here, it starts now."
Palin wasn't the only potential candidate to mention a Clinton campaign. Former Hewlett Packard CEO Carly Fiorina riled up the crowd delivering remarks aimed at Clinton.
"Like Hillary Clinton, I have traveled hundreds of thousands of miles around the globe. But, unlike her, I've actually accomplished something," Fiorina told the audience.
Relatively unknown to Iowa voters, Fiorina introduced herself as an outsider who could bring change to Washington.
2008, 2012 caucuses winners in attendance
Rick Santorum, the former U.S. Senator from Pennsylvania and winner of the 2012 Iowa Caucuses, told reporters that he was in Iowa to have a "serious talk to serious people".
Santorum spoke of the need to help blue collar, middle class Americans. Santorum said the republican party needs to focus its efforts on promoting lower taxes, family value and less government regulation instead of being critical of the Obama administration.
Former Arkansas Governor and winner of the 2008 Iowa republican caucuses, Mike Huckabee, said the Obama administration hasn't done enough to deal with foreign terror groups. The former Fox News Channel host said terrorism posed a greater threat to Americans than climate change.
Huckabee had considered running for President in 2012 but decided to not run and continue with his show at Fox.
Introduction to Iowans
Wisconsin Governor Scott Walker and conservative Ben Carson used the summit to introduce themselves to Iowa republicans.
Walker pointed out that he's been elected in 2010, 2012 and overcame a recall attempt in 2012 in a state that hasn't gone a to republican in a presidential election in more than 30 years. Walker discussed taking on labor unions and the recall attempt in 2012 mention death threats that were made against his family.
He ended his speech saying he would be back to Iowa "many more times" in the future, hinting at a possible run for the GOP nomination.
Carson said he has always felt welcome in Iowa. "They have so many people here who actually have common sense," Carson told the crowd. Carson, a best-selling author and neurosurgeon, called for common-sense solutions to end government overreach and return America to traditional values.
Protests interrupt Perry, Christie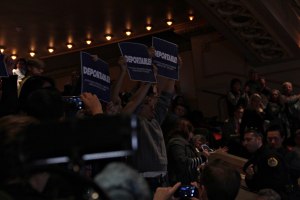 Marco Malagon, 32, was part of a group of protesters who interrupted Rick Perry's speech at the summit. Rep. King, who was on of the co-hosts, is one of the most outspoken opponents of illegal immigration.
Shortly after Perry detailed his efforts to combat problems at the border as governor of Texas, whose final day in office was this week, a group representing the DREAM Action Coalition stood up and started chanting from the balcony.
Perry continued with his speech, trying to drown out the shouting with a more robust tone in his remarks. The audience soon joined in with applause, as police began escorting out the protesters.
Outside police officers dragged Malagon, who's from Dallas, to a police car and arrested him.
Erika Andiola is an activist with the group and helped lead the effort Saturday. She made headlines in August when she confronted King at a fundraiser he was hosting with Sen. Rand Paul, another potential 2016 candidate.
Gov. Chris Christie's speech was also met with a protester, who was quickly ushered out. Christie, trying to resume his remarks, joked: "Don't they know I am from New Jersey?"
Saturday's summit is the first of many Iowa events, including the Ames Straw Poll and appearances at the Iowa State Fair, ahead of the caucuses in February 2016.
-CNN and NBC News contributed to this report