This is an archived article and the information in the article may be outdated. Please look at the time stamp on the story to see when it was last updated.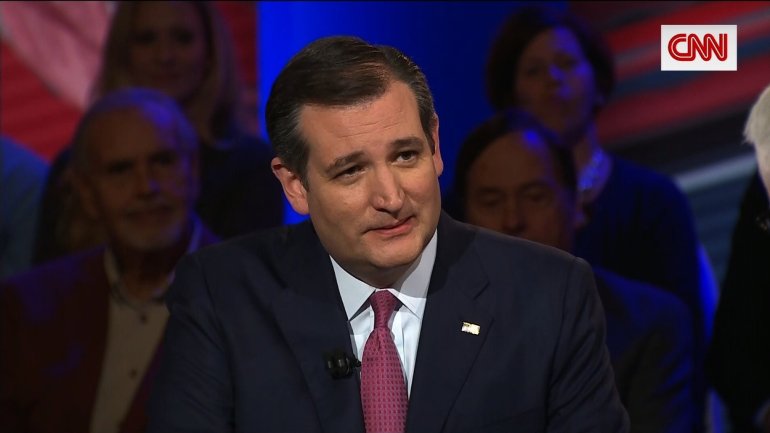 Ted Cruz said Tuesday he would "of course" ask his campaign manager to resign if he were charged with simple battery like Donald Trump's chief, Corey Lewandowski.
"It shouldn't be complicated," Cruz said at a CNN town hall in Wisconsin moderated by Anderson Cooper. "Members of the campaign staff should not be physically assaulting the press."
He added, "I will say it is consistent with the pattern of the Trump campaign. The culture of the campaign has been a campaign built on attacks and insults."
Lewandowski has denied wrongdoing in the incident after a Trump press conference earlier this month. The campaign says he is looking forward to proving his innocence and Trump earlier Tuesday strongly backed Lewandowski, saying he would not "destroy" a man by firing him for what he said was such a minor incident.
The charges against Lewandowski have prompted fresh criticism of Trump's campaign and came a week ahead of the Wisconsin primary, which is shaping up as a huge night in the bid by the billionaire's rivals to deprive him of the GOP nomination.
Ohio Gov. John Kasich, who is also taking part in the town hall, said Lewandowski was innocent until proven guilty but piled pressure on Trump by saying that whenever he discovered improprieties among Ohio government employees, staff were suspended or let go.
The feud between Trump and Cruz turned even more personal last week when the real estate mogul took aim at the Texas senator's wife.
Cruz also argued that the Trump campaign was behind salacious allegations published in the National Enquirer that alleged the senator had multiple extramarital affairs. But he said he wanted to discuss issues with the billionaire.
"What I am not interested in doing is what Donald's pattern has been. It's personal attacks, it's attacking family members," he said.
Last week, Trump took exception to an ad by a super PAC unaffiliated with Cruz featuring a risque picture of his own wife, Melania, a model, and threatened to reveal unspecified information about Heidi Cruz, prompting a furious response from the Texas senator.
Kasich, meanwhile, has maintained that he's the only adult in the GOP race and, despite having won only one primary to date, the sole remaining Republican who could emerge from a possible contested convention to beat Democrat Hillary Clinton.
Cruz ruled out any alliance with Kasich to maximize their chances of stopping Trump. Such an arrangement could, in theory, force the Republican front-runner to face only one candidate in each state for the rest of the campaign and coalesce opposition against him, complicating his hopes of winning the 1,237 delegates needed to claim the nomination.
"It makes no sense at all. John Kasich has no path to winning. We are competing to win, we are not competing to stop Trump. John Kasich went 0 for 27. He lost 27 states in a row," Cruz said.
Cruz said his "preferred option" was to win 1,237 delegates, though he said it was entirely possible that a contested convention could unfold if no one reached that number. But he argued that the only two names on the ballot in that situation would be himself and Trump.
The Texas senator was repeatedly asked to justify his call last week after the Brussels terror attacks for greater surveillance of Muslim neighborhoods in the United States.
Cruz said that he took it as a badge of honor that President Barack Obama, Democratic front-runner Hillary Clinton and New York police authorities had attacked him after he made the comment, despite their claims that such programs had not worked in New York City.
"If you want to stop radical Islamic terrorism, the answer is not to go hang out in random neighborhoods, it is instead to focus on communities where radicalization is a risk," Cruz said, before suggesting that Democrats and political correctness would consign the U.S. to the same problems in enforcing law in Muslim communities that he said Europe faces.
"America should not make the same mistakes as Europe," he said. "We should have law enforcement actively engage to stop radicalization."
Monday night's town hall is also likely to drill down on Trump's foreign policy worldview after he gave a series of interviews in which he complained that U.S. allies were not paying enough for defense guarantees and threatened to revisit the arrangements.
Cruz has accused the businessman of wanting to pull out of NATO, called his foreign policy inconsistent and dangerous, and claimed the latter's election would hand a big victory to Russian President Vladimir Putin.
Cruz intensified the confrontation on Monday by demanding that Trump join him on stage to turn the town hall meeting into a full-fledged debate.
"Donald, why don't you show up and debate like a man? I recognize that Donald prefers to communicate in 140 characters or less," Cruz said at a campaign stop in Wisconsin.
Trump replied on Twitter: "Lyin' Ted, I have already beaten you in all debates, and am way ahead of you in votes and delegates. You should focus on jobs & illegal imm!"
Both Kasich and Cruz need a big victory over Trump to secure most if not all of Wisconsin's 42 Republican delegates next week. They are trying to stop the former reality TV star short of the 1,237 delegates needed to win the nomination outright and open the way to a contested convention.
But the fact that they are both competitive in Wisconsin risks splitting opposition to Trump, allowing him to march on to more favorable contests next month in the Northeast with his large delegate lead untrimmed.
The town hall event is airing on CNN, CNN International and CNN en Español, and is being streamed live online and via CNNgo.