This is an archived article and the information in the article may be outdated. Please look at the time stamp on the story to see when it was last updated.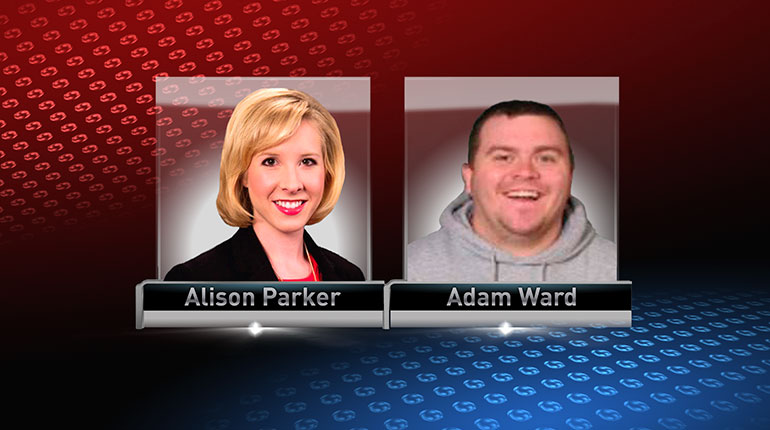 MONETA, Virginia – The man believed to have shot and killed a Virginia news reporter and photographer on live television Wednesday morning has shot himself.
Law enforcement confronted Vester Flanagan on Interstate 66 and Flanagan shot himself, officials tell CNN. The Virginia State Patrol said that Flanagan has died.
Virginia's governor Terry McAuliffe said Flanagan was disgruntled former employee, whose on-air name was Bryce Williams.
Picture of suspected #WDBJ shooter Vester Flanagan who on-air went by Bryce Williams: http://t.co/Psk0FIEp31 pic.twitter.com/H3TfR2fKG8

— WHSVnews (@WHSVnews) August 26, 2015
Two videos were posted to a Twitter account under the name of Bryce Williams Wednesday morning. They are from a first-person perspective and show the reporter, photographer, and interview subject during the live shot. One of the videos shows the shooting as it happened. A tweet from the account said, "I filmed the shooting."
Tweets before the videos were posted talked about work-related issues with the victims, 24-year-old Alison Parker and 27-year-old Adam Ward.
The account was suspended shortly after the videos were posted.
According to WDBJ, the shooting happened around 6:45 a.m. ET at Smith Mountain Lake. Parker was interviewing Vicki Gardner, executive director of the Smith Mountain Lake Regional Chamber of Commerce, and photographer Adam Ward was running the camera when the suspect began shooting. About six to seven shots rang out at the Bridgewater Plaza.
After the shooter started firing the camera drops to the ground and the broadcast cuts back to the anchor in studio.
The station confirmed Parker and Ward's deaths in a tweet.
It is with extreme sadness that we report WDBJ7's Alison Parker and Adam Ward were killed in an attack this morning.http://t.co/oC9s4vLJXV

— WDBJ7 (@WDBJ7) August 26, 2015
Vicki Gardner was shot in the back and underwent surgery. According to WDBJ she is in stable condition.
The video from the live shot captured an image believed to be the suspected shooter before it cut away.
WDBJ General Manager Jeff Marks told CNN Ward's fiance, a morning show producer at the station, was in the control room when the shooting took place.
Marks talked about the shooting and the loss of Parker and Ward during the station's morning show.
Friends remember WDBJ's Alison Parker and Adam Ward
Parker was a "rock star" reporter who loved Mexican food, whitewater kayaking and dark television characters such as Walter White on "Breaking Bad."
"The most radiant woman I ever met," in the words of a colleague.
Ward was engaged to be married. Vivacious and funny, the sort of person you never saw without a smile, as one college friend said.
On Wednesday morning, Parker and Ward, both employees of Roanoke, Virginia, TV station WDBJ, were shot to death while doing a live report from a shopping district near Moneta, Virginia. The person they were interviewing, Vicki Gardner, executive director of the Smith Mountain Lake Regional Chamber of Commerce, was shot in the back and underwent surgery.
WDBJ General Manager Jeff Marks said the two were "the kindest and nicest people" at the station. He was not aware of any connection between them and shooter Vester Flanagan, a former WDBJ reporter whom Marks said was fired two years ago.
"Why were they the targets and not I?" Marks said. "What do you do? Do you imagine that everyone who leaves your company under difficult circumstances is going to take aim?"
A reporter who cared
Parker was a native of the southwest Virginia area, having grown up in Martinsville, about 50 miles south of Roanoke. In a YouTube video by her station, she said she aspired to be a doctor or a pharmacist growing up.
"As a journalist, I get to cover those fields, so it's close enough," she said.
Parker graduated from James Madison University in 2012 with a bachelor's degree in media arts and design, honing her journalism chops as a reporter and editor for the student newspaper, The Breeze.
Tributes flooded a post on the school's Facebook page describing Parker as motivated and enthusiastic.
"She was living her dream," said Deon Guillory, now a TV reporter in Augusta, Georgia, who had Parker as an intern during her college years.
"She was always so eager to learn," he told CNN. "She was so enthusiastic, and she was doing what she loved."
Those who knew Parker said she was warm, generous and caring. Journalist Becky Blanton met Parker after moving to Roanoke in 2013 for a job in health care public relations. Parker helped her find freelance work, sharing personal and professional contacts without hesitation.
"She welcomed me with open arms, that immediate sisterhood. That's the way she was with everyone," Blanton said. "She was a networker in the truest sense; she tried to hook people up so everyone benefited."
Those attributes carried over to her reporting, Blanton said. Parker often reported on the Chamber of Commerce -- as she was doing the day she died -- with a knack for finding the human stories in business news.
"She cared about her stories and took a genuine interest in what people said," Blanton said. "She would look for personal details and ask the questions others didn't ask."
Chris Hurst, an anchor at the station, said on social media that he and Parker had been together for almost nine months and were "very much in love." They had just gotten a place together.
"I am numb," he wrote. "She was the most radiant woman I ever met. And for some reason, she loved me back. She loved her family, her parents and her brother."
In her station biography, Parker said she liked to "whitewater kayak, play with her parents' dog Jack, and attend community theater events."
Parker shared her life with viewers through her Facebook page, regularly posting her stories as well as pictures and video from family vacations and kayaking trips. Recent posts showed her in dance classes preparing for a fundraiser in the style of "Dancing With the Stars."
She was equally enthusiastic about her job, sharing behind the scenes photos from shoots. WDBJ anchor Kimberly McBroom called Parker a "rock star."
"You throw anything at that girl, and she could do it," McBroom said.
Parker appeared on CNN last year to report on a snowstorm in the Roanoke area. Guillory, her former colleague, said you could see her effervescent personality in that clip.
"You can even seen her smiling in the snow. That was the kind of person Alison was," he said.
'He loved what he was doing'
Photographer Adam Ward joined WDBJ after graduating from Virginia Tech in 2011 with a bachelor's degree in communication.
Those who knew him from Virginia Tech described him as funny and outgoing with a great sense of humor.
"Adam was a delightful person. He worked hard -- you could tell he loved what he was doing," said Virginia Tech professor Robert Denton, who taught Ward in classes and worked with him as a guest broadcaster at WDBJ.
"He wasn't afraid to pitch in and do whatever was necessary for the broadcast. He did whatever was needed with a smile and with grace. He was simply a very nice young man and very professional."
Larell Reynolds is a former WDBJ employee, who used to work with Ward.
"He's such a funny goofball. He had such a positive outlook on life, and he was so determined to put a smile on your face," Reynolds told CNN.
Ward was recently engaged, according to Solina Lewis, a journalist who said she was a friend of his fiancee.
"He was an incredible person, a great journalist and would have been a great father and husband," Lewis said in a statement posted on @Breaking911.
"He was sweet, hard working, he came over to my apartment and put furniture together for me without Melissa even there," she said. "Even though he had to get up for work and do the early morning live shot the next day."
Another journalist at the anchor desk said Ward was engaged to be married to Melissa Ott, a morning show producer at WDBJ. Ward told her, "I'm going to get out of news. I think I'm going to do something else."