This is an archived article and the information in the article may be outdated. Please look at the time stamp on the story to see when it was last updated.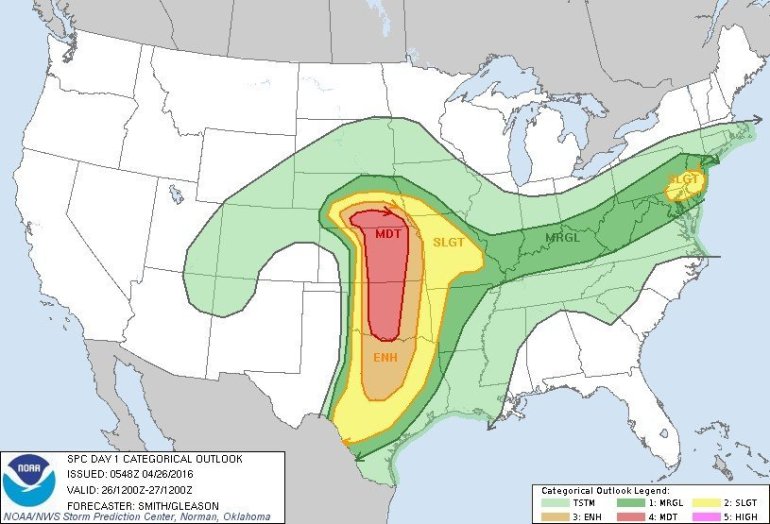 This could be a nasty one.
Lots of strong tornadoes, big hail and severe thunderstorms are possible Tuesday across a large part of the country from the Great Plains east, but especially in parts of Nebraska, Kansas, Oklahoma and north Texas.
"Tornadoes, destructive hail, and damaging wind will occur," the National Weather Service's Storm Prediction Center flatly warned.
More than 3.6 million people are in the area of greatest risk for severe weather, including those living in Oklahoma City and Wichita, Kansas, according to the National Weather Service.
"This is not just a tornado or two," said CNN meteorologist Allison Chinchar. "We're expecting a tornado outbreak, with multiple tornadoes in multiple states, and several have the possibility to be long-lived or long-tracked, meaning they're on the ground for long periods of time."
At least two Oklahoma school districts decided the threat was significant enough to shut down for the day. Others opted to dismiss early, citing the threat of severe weather.
Among them: public schools in Moore, Oklahoma, where a 2013 tornado that ravaged the city flattened a school building, killing seven children.
The tornado threat is forecast to begin Tuesday afternoon and may reach its peak in the evening, with some of the severe weather lasting into the night, said meteorologist Bill Bunting, chief of operations at the weather service's Storm Prediction Center in Norman, Oklahoma. Hail could start earlier Tuesday near the Kansas City area.
The storm system will also be capable of producing strong thunderstorms and damaging straight-line winds of up to 70 mph in some areas, Bunting said.
A lesser but still significant risk of storms exists in areas including Dallas and Tulsa, Oklahoma, according to the National Weather Service.
Be prepared
Forecasters advised people in the storm-threatened areas to prepare.
"Make sure you have a severe weather plan for you and your family," Bunting said. "If you don't, today is the day to develop it."
Among his tips ahead of the storms:
• Know where to seek shelter in your home or building.
• Have a way to get in touch with family or friends, or set a designated meeting point, to let them know you're OK after the storm.
• Have multiple ways of receiving information and weather alerts, including a weather radio and weather apps on your smartphone. Also make sure your phone is set to receive emergency weather alerts. In some phones it's under general settings, and in others, it's in the message settings.
CNN's Rachel Aissen contributed to this report