This is an archived article and the information in the article may be outdated. Please look at the time stamp on the story to see when it was last updated.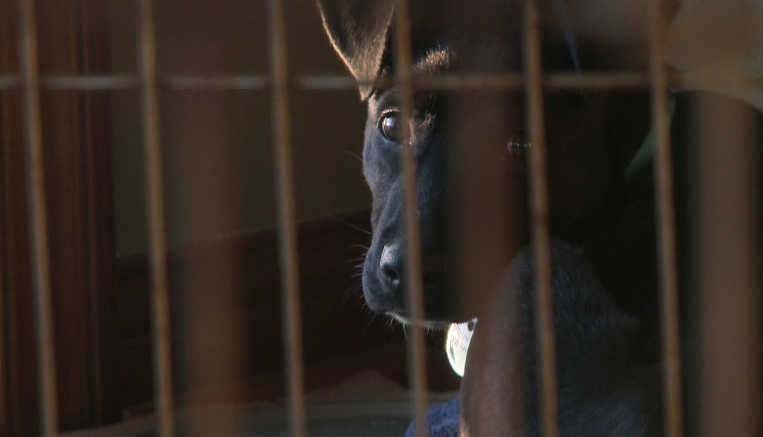 URBANDALE, Iowa – The first snow of the season brings a familiar freeze and routine sights, like overturned cars and dangerous driving conditions, along with it. It's not the ideal circumstance for a van transporting 22 rescue dogs to Minnesota.
"This is a rescue group that we transport to on Saturdays, so they know us, we've been working with them for years," said Amy Heinz, founder and CEO of AHeinz57 Pet Rescue. "So, when they had trouble with their transport, they called us."
Heinz says the dogs were virtually stranded in the snowstorm Friday night. The drivers, who no longer felt safe making the commute to Minnesota, needed to seek shelter.
"The hotel would only allow I think one dog per room, and there were only two travelers – human travelers – and there were 22 dogs," she said. "So, that's a problem when you're stuck in the snow in the middle of Iowa."
So Heinz called on her volunteers using social media. Within three hours, Des Moines' dog lovers came running to the call.
"We were kind of hunkered down for the night, watching a movie," said one volunteer named Leah. "I happened to look at my phone and saw the message from Amy, said, well, we're not doing anything except warm and cozy…so we thought we would just head over and see what we could do to help. And there were a lot of poor dogs still left in the van at that point."
Leah has volunteered with AHeinz57 Pet Rescue for about a year; already fostering a pair of dogs, she figured her home had space for a few more furry friends.
"It's all about the dogs at the end of the day," she said. "We don't want any dogs in a cold van in an unsafe situation."
Heinz calls it a "selfless act" by these volunteers. Though the Iowa DOT had issued a warning of driving in the snowstorm, volunteers like Leah found these dogs eight warm homes to keep them safe.
"We didn't know the drivers, we didn't know the dogs," she said. "We'll never see these dogs again, we won't benefit from this, except knowing we did the right thing."
The dogs will finish their journey to a shelter in Minnesota Sunday morning from Des Moines, once roads in the northern part of the state are cleared as safe to drive through.