This is an archived article and the information in the article may be outdated. Please look at the time stamp on the story to see when it was last updated.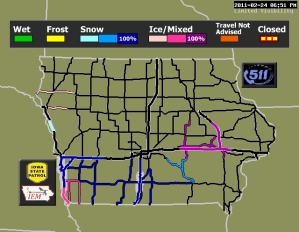 The winter weather advisory has been updated to take Dallas, Polk and
Tama
Counties out of the advisory area.
The snow is staying south of Interstate 80. It was amazing to see how much snow was falling just south of the metro through the evening.
New Virginia…in Warren County…about 20 minutes south of Des
Moines
received 2 inches of snow in just 45 minutes tonight.
Pella
reported 3 inches of snow by 7 PM. Murray in Clarke County had 4.4 inches as of 8:00 tonight.
Roads are 100% snow covered along the southern 2 tiers of counties.