This is an archived article and the information in the article may be outdated. Please look at the time stamp on the story to see when it was last updated.
It will be the biggest highlight of her young life. A starring role in Saturday's Iowa vs. Iowa State game.
Six-year old Stella Turnbull will be center stage this weekend, serving as the Hawkeye's honorary kid captain.
She's a huge supporter of the football team, but it was a team of University doctors that  gave Stella the chance to become a loyal fan.
Stella was born a healthy baby girl, but soon that all changed.
"At one month of age she suddenly lost the majority of her muscle tone," says Stella's Mother Sarah Turnbull.
Stella's parents learned the worst when they took her to Mayo Clinic.
"After a week of testing they said, we think it`s Spinal Muscular Atrophy.  Those were pretty devastating words because it`s a quote a terminal disease and she was the weakest they had seen at Mayo Clinic," says Sarah Turnbull.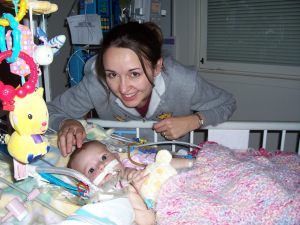 Doctors gave Stella just weeks to live.  They advised her parents to take her home and love her for the little time she had left.
"It was devastating you have all these dreams when you have children and all of those dreams started to slip away," says Stella's Father Travis Turnbull.
The Turnbull's refused to give up on those dreams; they turned to University of Iowa Children's Hospital hoping to save their daughter's life.
"They were willing to try, and that was the important thing knowing that they were willing to help us and be advocates for us," says Sarah Turnbull.
The University organized a team of pediatric experts representing 11 different medical specialties.
Together they developed a personalized treatment plan for Stella.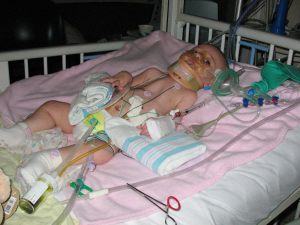 She was fitted with a feeding tube and ventilator, but it was Stella's will to fight that allowed her to outlive her initial prognosis.
"We couldn`t believe that she would get to age 6, but I think the difference with us was we had the hope and belief that we could get there," says Sarah Turnbull.
Stella is able to live at home and attend school.  She also is now able to lead the Hawkeyes against the Cyclones.
"We`re hoping as the kids captain for the Hawkeyes that she helps inspire the team and puts a win out there for the Iowa Hawkeyes," says Travis Turnbull.
Stella is doing much more than inspiring a team, she's inspiring other children.  She is also giving new hope for parents and bringing much-needed awareness to Spinal Muscular Atrophy.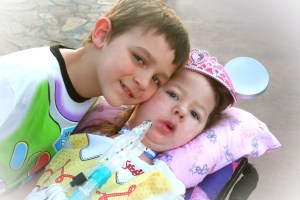 "SMA is the neuromuscular disease closest to a cure and so now that these children are thriving it`s putting a face with the disease and there are some really promising therapies out there that we`re really excited about," says Sarah Turnbull.
Stella's future is looking bright, and she couldn't be more excited to cheer on the black and gold.
"She is indeed a miracle, she`s got the fight and that`s been obvious from day one," says Sarah Turnbull.
Stella will be joined at the game by her parents and two brothers, Treyton and Sayer.
The family has a big Saturday, they'll also be walking in the Beaverdale Beaverdash which this year benefits Families of SMA.