This is an archived article and the information in the article may be outdated. Please look at the time stamp on the story to see when it was last updated.
Crews in Pella are getting ready to build a new sports park.
"We wanted to get a situation where we could get families together, have them all playing at the same facility so that we could have community with our family and also other families," says Craig Wassenaar with Pella Sports Park Committee.
The dirt is already moving on a $9 million sports park in Pella, but the official groundbreaking ceremony is being held Friday.
The 105 acre park is being built on the east edge of town. The idea has been 10 years in the making. Community leaders along with the Korver family and Vision Iowa chipped in to make it happen.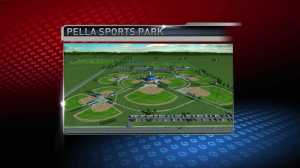 The park will have youth sports all located in one spot, including baseball, softball, soccer, football and even cricket.
"We've got a group here that's from India that likes to play cricket. They're gonna have some portable pitches…to be able to play cricket on the grounds. So we're gonna have flexibility on that. And it's just gonna be a neat environment out there," says Bill DeMeulenare of the Pella Sports Park Committee.
The groundbreaking ceremony is scheduled for Friday at 9:00 a.m. and the public is invited to attend.
The park is set to open next fall.