This is an archived article and the information in the article may be outdated. Please look at the time stamp on the story to see when it was last updated.
You never know what someone is going through until you take a walk in their shoes or in this case, their fire boots.
Firefighters with the Indianola Fire Department have it pretty good.
"The fire service is usually a fairly respected group of people in their community and their treated very well," says Fire Chief Brian Seymour.
It means something to be a firefighter. It's an identity. Except for those who are seven times zones away.
"When the truck showed up, the community there was infuriated with them and threw rocks at them."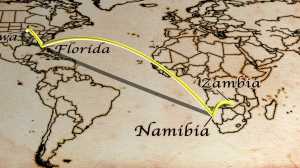 More than 8,000 miles to the east of the US in Zambia is the village of Katate, where fire is a part of everyday life and firefighters lack credibility.
No uniforms, little training, and a broken-down fire truck stationed fifty miles away is all they had.
"They didn`t have anything that identified them as firefighters. They were just people showing up on a truck to do what they could."
Chief Seymour and his men first visited Katate two years ago by way of a grant from the Children's Burn Foundation. Together with an Iowa City doctor the group met burn victims at a local hospital.
"We`ve taught them what we can about treating burns. Why are we not try trying to push more on let's not have a burn to treat?"
That was the push over the next 12 days - teaching, training and outfitting a volunteer fire department. The only thing still lacking were the tools to do the job.
"To be quite honest, it took them 10 minutes or so to just get the equipment running and to be able to respond to the fire."
What they needed was a new truck. A couple phones calls here and there to the right people within a week they landed on a 1945 fire truck.
An oil company near the North Pole donated the truck and shipped it to Minneapolis. The firefighters then drove it to Indianola for a makeover. In April the truck will be towed to Jacksonville, Florida for a boat ride to a West African seaport, by May the Indianola Fire Department will return to Africa to finish the last leg.
"It is a long journey. Just from Walvis Bay to Katate is a 30 hour drive," says Seymour.
The $15,000 trip was funded entirely with donations, some even coming from the firefighters themselves.
"You're there to do something for a purpose and to make things better for somebody else."
The department says in the future they hope to bring a few African firefighters to Iowa for additional training.