This is an archived article and the information in the article may be outdated. Please look at the time stamp on the story to see when it was last updated.
CHICAGO, Illinois — After coaching the Iowa State Cyclones men's basketball team for the past five seasons, Fred Hoiberg is now the head coach of the Chicago Bulls. The announcement was made during a press conference Tuesday afternoon in Chicago.
After the Bulls decided to dismiss Tom Thibodeau, who coached the team for the past five seasons, the organization was able to reel in their long-rumored No. 1 choice to replace him. Hoiberg has been linked with Chicago for several years now due to his strong relationship with the team's front office, most notably Bulls General Manager Gar Forman. He signed a five-year deal worth nearly $25 million to coach the Bulls, according to reports.
ONE-ON-ONE: Coach Hoiberg Sits Down with Keith Murphy
PHOTO GALLERY: Fred Hoiberg Through the Years

In recent years, Hoiberg said he's received plenty of interest and opportunities to coach in the NBA. He passed on those previous positions to stay in Ames and continue building the program. However, this particular opportunity with the Bulls was something he admitted he couldn't pass up. Hoiberg has always dreamed about coaching in the NBA, and now he's decided that this is the right time to jump to the next level. Despite being excited and thankful for the chance to coach at the highest level, leaving Ames and the Cyclones program was certainly not an easy decision.
"I'm always going to be a Cyclone"
Forman accompanied Hoiberg at the team's official announcement on Tuesday. At the beginning of the press conference, Forman offered several comments on the much-anticipated hiring.
"We are thrilled today to introduce Fred Hoiberg as the new head basketball coach of the Chicago Bulls. In Fred, we feel strongly that we have a guy with a skill package of a winning coach, a guy who is a natural leader and great communicator," Forman said. "Fred's a guy who played in the league for a long time, was an executive in the league, and then had unparalleled success coaching at Iowa State. He led Iowa State to Big 12 championships, nationally ranked teams, NCAA Tournament teams, and teams that year-in-year-out were one of the nation's best as far as pace of play and offensive efficiency. Obviously, we've known Fred for a long, long time and thought very highly of Fred."
Hoiberg spoke after Forman concluded his opening remarks, saying this was an unbelievable opportunity to coach this Bulls team. He thanked everybody at Iowa State, including the university, his former players, fans and others.
"I want to thank my players," Hoiberg said. "The hardest thing about leaving Iowa State University right now is the players that I built such great relationships with. It's a special, special group of kids.
"I want to thank the fans at Iowa State, I grew up in Ames, my wife grew up in Ames, our family obviously spent a lot of time in the community. In my opinion, there's not a better fan base in college basketball than the Iowa State fans."
The new Bulls head coach also talked about the success Iowa State enjoyed during his time there, the difficulty to leave and the fact that he'll always remain a Cyclone.
"I'm a firm believer in leadership starts at the top and we had that at Iowa State," Hoiberg said. "I really believe that's the reason we had success in our program, because of that great leadership that trickled all the way down throughout our entire program.
"It's been emotional. It has really, really been emotional to leave a comfortable situation like we had but my family understands that this has always been my dream.
"I'm always going to be a Cyclone, there's no doubt. I'm looking forward to going back and spending time in that community."
Meets With Bulls 
Before boarding a plane bound for Chicago to meet with the Bulls on Monday, Hoiberg discussed at length the consistent speculation that was reported for weeks during the hiring process.
"It's been extremely tough. I want to apologize to everybody for just kind of the way it has all gone down at this point," Hoiberg said on Monday. "With everything that's been reported out there, all the rumors and the speculation that's been thrown around, it's been very difficult to deal with that. I have not been able to comment on anything because there hadn't been anything firm out there.
"I understand when you're going through these types of things, even if you don't take a position, there's still disappointment because, well, is the loyalty there? I get the passion of this place, I grew up here, I understand all that," Hoiberg said. "It is such a tough decision and that's why I have passed up on great opportunities here the past couple years. I think the big thing is, you know the way we structured my contract, I would never have left Iowa State for another college job. It wouldn't have happened and it wouldn't have mattered which program would have called, this is where I wanted to be."
"The Mayor"
Hoiberg and his family moved to Ames when he was 2-years-old and it immediately became home. A prominent story during Hoiberg's introduction to Cyclone basketball was as one of the university's first ball boys. In 1986, then-ISU star Jeff Hornacek landed on Hoiberg, sprained his ankle, and missed the rest of the game. "Injuring the best player in school history wasn't how I wanted to be remembered," Hoiberg said later.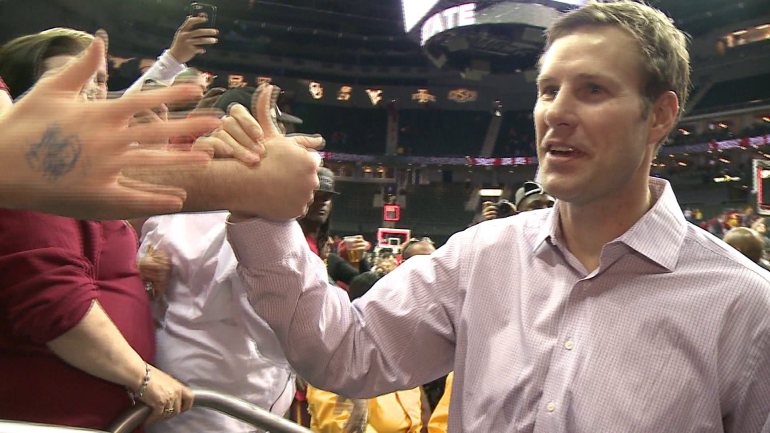 Nobody came to be quite as revered as Hoiberg is locally which initially gained momentum as he became a star athlete at Ames High School and Iowa State University. Due to everyone's growing admiration of him and the fact that he grew up in Ames, Hoiberg's teammates and fellow students began calling him "The Mayor" while he attended ISU in the early 90's. The nickname was later solidified after he received several write-in votes during the 1993 Ames mayoral race.
Whether it be showing off some sweet dance moves for charity, busting a move in the locker room, marrying his high school sweetheart, or resurrecting the Cyclone program, Hoiberg has proved why he's Ames' native son.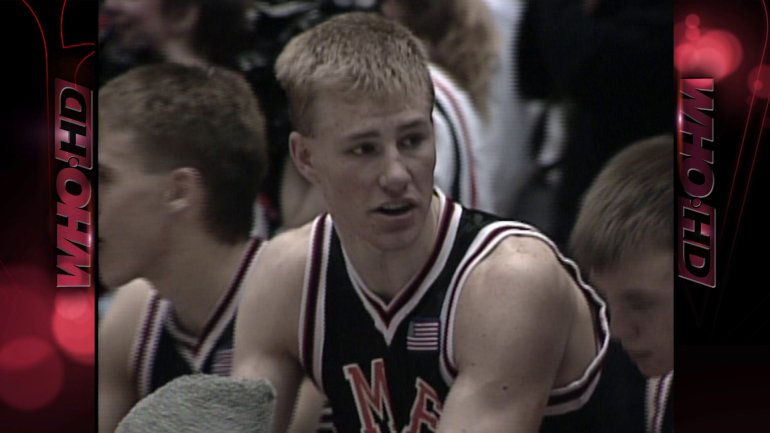 Playing Career
At Ames High School, Hoiberg was the quarterback of the football team and the captain of the basketball team. The sport of basketball proved to be where he excelled the most, as he led the Little Cyclones to a state championship and was honored as the State of Iowa's "Mr. Basketball" in 1991.
Hoiberg ultimately decided to attend Iowa State University, despite receiving scholarship offers from several other schools. He played for the Cyclones for four years before graduating in 1995. He finished his outstanding college career averaging 15.8 points per game, 5.9 rebounds, 2.8 assists, and 40 percent shooting from three-point range. He was named 1992 Big Eight Freshman of the Year and was a 1995 First-Team All-Big Eight selection. Hoiberg's No. 32 jersey was retired by ISU in 1997 and hangs in the rafters at Hilton Coliseum.
Following his collegiate career, Hoiberg was drafted 52nd overall by the Indiana Pacers in the 1995 NBA Draft. The shooting guard played 10 seasons in the NBA for three different teams, which included the Pacers, Bulls, and Timberwolves. His professional career ended abruptly at the age of 33 after undergoing his first open-heart surgery. Hoiberg finished his NBA career with 2,944 points in 541 regular season games, and also led the NBA with a 48.3 shooting percentage from behind the arc in 2004-05 with Minnesota.
Return to Ames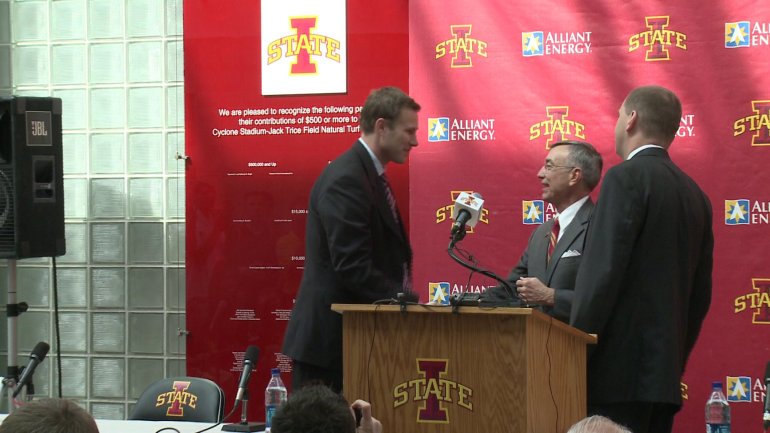 After being the Timberwolves' Vice President of Basketball Operations during the 2009-10 season, Hoiberg returned to Ames to coach for his hometown Cyclones back on April 28, 2010. The head coaching job became open when Greg McDermott resigned to accept the same position at Creighton. Hoiberg became the 19th coach in the school's history by signing a five-year contract, starting with a first-year guaranteed salary of $800,000, according to the university. He was officially introduced in front of a packed audience in the Jacobson Athletic Building.
"The opportunity to return to my hometown and my alma mater can certainly be described as a dream come true," Hoiberg said after being introduced. "I am very humbled to receive this opportunity and appreciate the confidence that Dr. (Gregory) Geoffroy and (Iowa State Athletics Director) Jamie Pollard have shown in me. It's a Hollywood script for me to take the reins of a program that I cheered for as a kid, played for as a collegian and followed closely for more than a decade as an alum."
During his time as head coach of the Cyclones, it became more clear year-after-year that Hoiberg was a very talented coach. Due to his growing reputation, the university gave him two new contracts and one pay raise in hopes of keeping him in Ames. In March of 2012, Hoiberg was given a new eight-year deal worth $1.5 million per year. One year later, the coach signed another new contract, a 10-year deal worth a total of $20 million. Most recently in April of 2014, Iowa State gave Hoiberg a raise of $600,000 per year, increasing his salary to $2.6 million per year.
The team saw a tremendous amount of success with him as coach the past five seasons, finishing with an overall record of 115–56. Hoiberg was the fastest coach to 100 wins in school history and his 115 wins are the most in a five-year span. The 2012 Big 12 Co-Coach of the Year led Iowa State to four straight NCAA Tournament appearances and back-to-back Big 12 Tournament titles his final two years.
The 42-year-old also underwent a second heart surgery in April. Hoiberg stated that he found out about 10 years ago he'd have to do the second surgery at some point, and hopes that the surgery to replace his aortic valve will be his last. Hoiberg provided fans with a video showing his progress and another featuring a short interview in the hospital during his recovery.
Fits Well With Chicago
During Hoiberg's senior season at Iowa State in 1994-95, current Bulls General Manager Gar Forman was an assistant coach under Tim Floyd. Also, after playing for the Bulls for four years, Forman purchased Hoiberg's home when Hoiberg left to play for the Minnesota Timberwolves following the 2002-03 NBA season. The organization has been familiar with the head coach and kept an eye on him for quite some time.
At the Bulls' press conference on May 28 following the firing of Tom Thibodeau, Forman spoke about a specific set of characteristics they would be looking for in the team's next head coach.
"As far as our next coach is concerned and what we are going to be looking for in our next coach, quite simply, we're going to be looking for the right fit," Forman said. "The right fit for our individual players, the right fit for our team, and the right fit for our organization. We'll be looking for someone who is a leader, has great communication skills, an excellent knowledge of the game of basketball, and someone who is an open and creative learner."
Hoiberg fit that coaching description as well as anybody and now has the task to take this Bulls team to the next level. He inherits a quality roster featuring several All-Star players, including Former MVP Derrick Rose, Reigning Most Improved Player Jimmy Butler, Pau Gasol and Joakim Noah.
"I love this roster, I absolutely love this roster," Hoiberg said on Tuesday. "I love the versatility of the players and the different lineups that we are going to be able to play. You can play small and you can play big. You have lineups that I really think can get out and play with pace. You have a great group of veteran players that know how to play.
"A lot of coaches don't walk into this roster, which is a roster with championship potential."
The former Iowa State coach also has big shoes to fill. During his five seasons of coaching the injury-riddled Bulls, Thibodeau posted an impressive 255-139 regular-season record, which is the second-highest winning percentage for a coach in team history. Thibodeau's teams made the playoffs every season, including two second round appearances and one Eastern Conference Finals appearance.
"Tom Thibodeau is an excellent, excellent basketball coach who instilled a lot of unbelievable qualities in this team that hopefully I can build on," Hoiberg said.
Always Up Front About NBA Goal
Iowa State Athletics Director Jamie Pollard said as recently as May 13 that Thibodeau's replacement was always up front about his goal to coach in the NBA. It was just a matter of when Hoiberg would make the leap, not if.
"We just have to take the time to remember, appreciate what we have and enjoy it while we have it. I think in the end, (coaching in the NBA) is something he really wants to do," Pollard said. "At some point in time he will probably do that, but until he does that he's ours and let's just enjoy it. From the day we sat down and talked about him coaching Iowa State that was something that he expressed was a long term career goal for him, to be in the NBA. What he's shown in the last five years is that he can really coach, and that's taken it to a whole other level. I'm sure it will happen and when it does it will be a sad day for all of us but we'll be excited for him."
"Jamie Pollard is absolutely right," Hoiberg said. "This is one of my life goals, to coach in that league."