This is an archived article and the information in the article may be outdated. Please look at the time stamp on the story to see when it was last updated.
IOWA — Fresh off their record-setting performance at the state fair last week, Iowa-based rockers Slipknot have another reason to celebrate.
Their new album, "We Are Not Your Kind," debuted at the top of the Billboard 200 chart. The band's sixth studio album sold 118,000 copies in its first week.
It is the third time they have topped the chart. They are the first rock band in two years to top the Billboard 200 chart since the Foo Fighters' "Concrete and Gold" charted number one in 2017.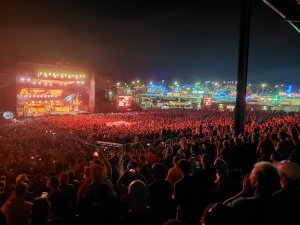 "We Are Not Your Kind" was released Aug. 9, a day before Slipknot's massive concert at the Iowa State Fair. It was the Des Moines band's first-ever performance at the fair. Over 17,000 fans turned out to see them perform.