This is an archived article and the information in the article may be outdated. Please look at the time stamp on the story to see when it was last updated.
CARLISLE, Iowa -- Adults have been arguing, swearing and protesting since the presidential election a week ago. Perhaps, they can find some comfort and joy in following some sixth-grade students at Carlisle Middle School.
"All the drama," laments Madelynn McFadden of what happens too often in middle school, although it could describe what's happening with many adults now, too.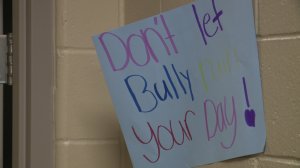 Addeline Morlan wanted to get rid of the drama, or at least as much of it as she could. So she started a Joyologists Club last year. It was a club of one. It now numbers a half dozen.
She hopes to spread joy to classmates, especially those who seem to need it the most.
"I'm trying to make everyone in middle school thrive," Addeline said. "I want everyone to be happy. And they deserve to feel included."
The Joyologists are coming up with ways to reach out to students without making them feel uncomfortable. Posters, announcements and an after school club are all possibilities. The group hopes everyone will stop and think about the way they talk and act to one another.
"They exclude a lot of people," Addeline said of those clearly not spreading joy. "They exclude people and it makes them feel sad."
Her group's challenge is to replace that sadness with the joy the members feel every day.