This is an archived article and the information in the article may be outdated. Please look at the time stamp on the story to see when it was last updated.
JOHNSTON, Iowa –The Johnston School District didn't need a bunch of money or high-tech help to solve a frustrating problem. Instead, school leaders found help thanks to an old-fashioned hobby.
The original problem comes from the doors. They are designed to lock from the inside. The idea may seem to make sense. It prevents students from locking themselves inside a classroom. But that security measure causes an unwanted challenge, too. If an intruder got inside a school and wanted to do harm, a teacher is put in a difficult position. The teacher would have to open her classroom door from inside and reach outside to lock the door. That puts her at risk to the intruder.
Joy Wiebers, the principal at Summit Middle School, has to make student safety a priority. "When you let your guard down, you open the door maybe for something to happen," Wiebers said.
Obviously, she doesn't want that to happen. So she tried rubber bands. Giant rubber bands. They stretch from the outside door handle to the inside handle. They cover the locking device. So a teacher, when her door is shut and not locked, can slide the rubber band down from the inside of her classroom. That locks the door, keeps the teacher and students safe inside and keeps the intruder locked outside.
But Wiebers said the rubber bands can slip. So they aren't reliable. That's where some volunteers at Crown Point Center decided to help. School leaders asked the volunteers, who call themselves the "Sew-cials," if they could sew something more reliable.
Caroline Ver Schuer helped lead the effort. She is the site coordinator for Crown Point. Ver Schuer donated all the supplies the women would need.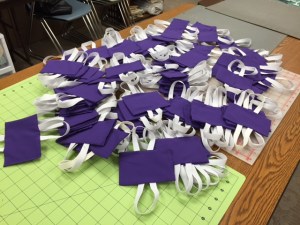 They created what the group calls "lock blocks."
The lock blocks work almost the same as the rubber bands. But the women say the cardboard they sew into the device's fabric is sturdy and stops the piece from slipping when placed on the door. The elastic bands connect to both the inside and outside door handles, much like the rubber bands did.
Wiebers couldn't be more grateful. The lock blocks work well and are far more reliable than those rubber bands. The volunteers estimate they have made 120 or so lock blocks so far. They think they will need at least ten times that many for all the doors in the district.
[scribd id=278246871 key=key-C49E1axpQujzVqYq8weg mode=scroll]