This is an archived article and the information in the article may be outdated. Please look at the time stamp on the story to see when it was last updated.
Severe thunderstorms started racing across the state this morning and continued to drop trees, barns and amazing amounts of rainfall through the day.
The severe storms had wind speeds of 70 mph. The heavy rainfall this spring as made soil saturated to the point that trees like this one in Audubon were uprooted. Jake Anderson sent this picture to our photolink file on our website.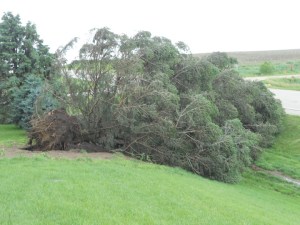 In Grundy County…there was barn and tree damage near Wellsburg. The damage looks like it was created with straight-line winds. The picture was sent to us from our NBC station in Waterloo.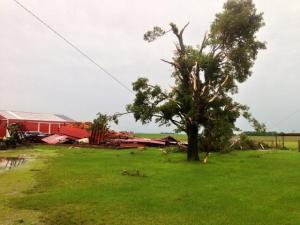 We also had torrential rainfall. Most of the heavy rain fell in the saturated counties of north central Iowa. Check out the damage report and rainfall totals collected from the NWS. It is shown through a pretty cool interactive file system that allows you to see all the severe events or individual reports of damage or rainfall totals.
Next three days will be hot and humid. Highs are going to reach the lower 90s. The humidity will remain very high. The heat index will reach 100.
Finally…this is a really cool picture of near space taken over the weekend. Photograph taken from high altitude balloon launched Saturday morning, June 15, 2013. One of nine balloons launched at the Great Plains Super Launch, held in Pella, Iowa.