This is an archived article and the information in the article may be outdated. Please look at the time stamp on the story to see when it was last updated.
Solving problems seems to come naturally for one metro teen. Now, she's not just solving the problems she's passionate about. She's helping kids around the world do the same.
Like any 18 year-old, Talia Leman is getting ready for college. She says, "I just graduated from Roosevelt High School and Central Academy." She goes on to say, "I'll be attending Stanford University in the fall."
But, this recent grad has a resume most adults can't boast.  She says, "So, I have a non-profit called RandomKid."
You may remember Talia from a news story 8 years ago. She says, "I started in 2005 after Hurricane Katrina hit the Gulf Coast."
As a 10 year-old, she asked kids to trick-or-treat for coins instead of candy. She says, "I wanted to do what I thought was going to be a little project to help out. And, I decided that I was going to be the CEO of this effort. And, I decided that stood for Chief Executive Optimist. And, then I set out a goal of raising $1 million."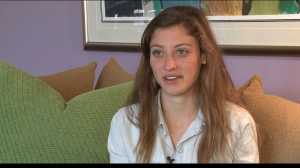 With national and local publicity and the help of major corporations, the budding philanthropist's Trick-or-Treat for the Levee Catastrophe, or TLC, raised $10 million. And, it got her thinking: why not help other "random kids" do big things. She says, "After the TLC project, I wanted to create something to harvest that youth power for the other disasters in the world. That's why I started RandomKid."
The international non-profit has helped 12 million kids from 20 different countries get a variety of projects off the ground. She says, "What we do is provide youth with all the tools and resources that they could ever need to address the issues they see in the world that they feel passionate about."
Next month, she'll go to San Francisco to accept the 2013 Diller Teen Tikkun Olam Award. She's one of ten recipients across the country. It comes with $36,000, which she may use to develop a RandomKid mobile app and help her new project called "The Big Return." Of the award, Talia says, "It was a shock, and a great honor. We're really grateful."
Talia is also a published author. She started writing a book when she was just 16. It moved to the top of Amazon's Movers and Shakers list. She says, "It's a random book about the power of anyone."
The book shares what she's learned in her young age and offers advice on helping others.
As for this random kid's future, Talia says, "I've always really liked health and medicine, so I might go pre-med. It's still really open and up in the air."
Click here to find out more about RandomKid.
Click here for more information about the 2013 Diller Teen Tikkun Olam Award.